Mike Judge Thinks Beavis And Butt-Head Could Return, But In Live-Action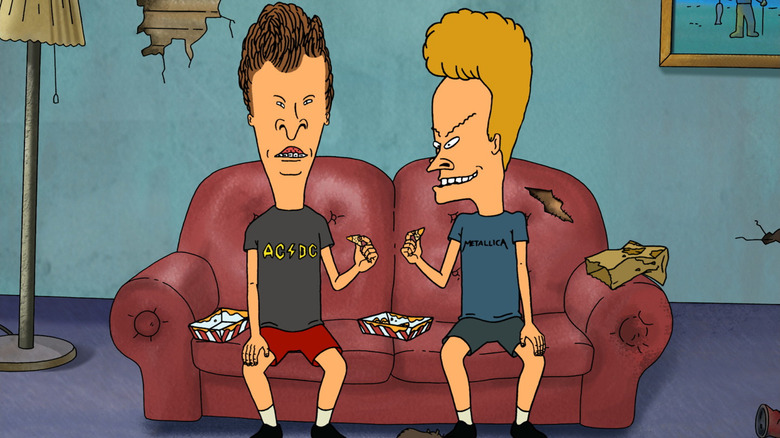 If there are two things Hollywood loves right now, it's 1990s nostalgia and reviving dormant properties. In that light, it's probably just a matter of time before someone, somewhere, makes another attempt to bring back the iconic animated comedy Beavis and Butt-Head. Series creator Mike Judge, for one, thinks it could happen. Although this time, there could be a twist: Judge speculates that it could return as a live-action series. 
For those of you to young to remember the 1990s, Beavis and Butt-Head were two heavy metal-loving teenage slackers, both voiced by Judge. The characters originated on a 1992 short film by Judge, and got their own MTV animated series in 1993. The series aired around 200 episodes through 1997, and spawned an animated feature (Beavis and Butt-Head Do America) in 1996. Beavis and Butt-Head were sniggering a**holes who tended to annoy the hell out of anyone unfortunate enough to interact with them, but their show was hugely popular in our world.
Judge brought up the possibility of a Beavis and Butt-Head revival in a chat with Radio Times, suggesting, "Maybe it could be a live-action someday." Judge declined to float any casting picks but suggested Beavis was probably "homeless" by now. That may indicate that Judge wants the live-action Beavis and Butt-Head to pick up with the characters as adults, rather than just move their teenage selves to the present (or just pick up with them as teenagers in the 1990s). But then again, it could just be idle speculation.
And it's unclear how far past idle speculation the live-action Beavis and Butt-Head idea has gotten, or will ever get. Judge is currently busy with an already existing live-action comedy, HBO's Silicon Valley. As creator and showrunner, he's steered that tech comedy into legitimate greatness — its just-ended third season was the show's best ever, and as interesting and astute an exploration of power and ambition as its Sunday night schedule-mates, Game of Thrones and Veep.
Then again, Beavis and Butt-Head has come back once before — MTV revived it for 22 episodes in 2011 — and the '90s are huge right now. If everything from Full House to The X-Files to Legends of the Hidden Temple can come back in some form or other, why not Beavis and Butt-Head?