'Assassin's Creed' Photos: Michael Fassbender Is Ready For Action In The Past And The Present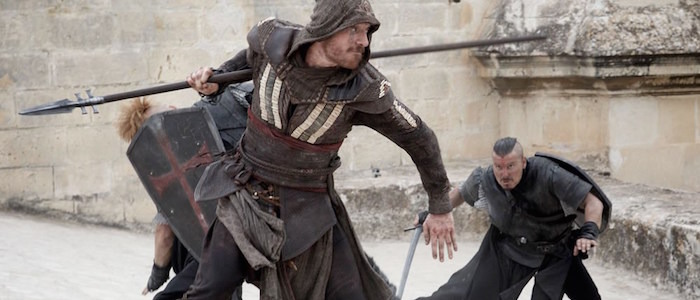 Justin Kurzel's Assassin's Creed adaptation has a pretty killer cast to begin with, and making things even better is the fact that he's giving us two Michael Fassbenders for the price of one. Well, sort of. Fassbender doesn't seem to get a whole lot of scenes with himself, but he does play two different characters: modern-day man Callum Lynch, who discovers that he is descended from a long line of Assassins, and his ancestor Aguilar, who was one of said Assassins in 15th century Spain.
A new pair of photos gives us a look at both versions of Fassbender. And while their worlds and costume choices may be very very different, they both look ready to spring into action. Check 'em out after the jump.
20th Century Fox shared the new Assassin's Creed photos on Twitter.
The contrast between the past and present is very clear, but Kurzel and his team seem to have done a good job of maintaining some stylistic consistency. The photos feel like they come from the same movie, even though one is very yellow and old-timey and the other is very blue and vaguely futuristic. Assassin's Creed should make for a visually impressive movie, if nothing else. The action has been promising so far — and not for nothing, it's looked fairly accurate to the game. The promos haven't really given us a compelling reason to care about the story or characters yet, other than "it's based on something you already like," but there should be plenty of time for that as the marketing campaign ramps up in the coming months.
Assassin's Creed hits theaters December 21. Marion Cotillard, Jeremy Irons, Brendan Gleeson, and Michael K. Williams also star.
Through a revolutionary technology that unlocks his genetic memories, Callum Lynch (Michael Fassbender) experiences the adventures of his ancestor, Aguilar, in 15th Century Spain. Callum discovers he is descended from a mysterious secret society, the Assassins, and amasses incredible knowledge and skills to take on the oppressive and powerful Templar organization in the present day.