'Mr. Robot' Season 2 Video Clip Reveals What Happens Next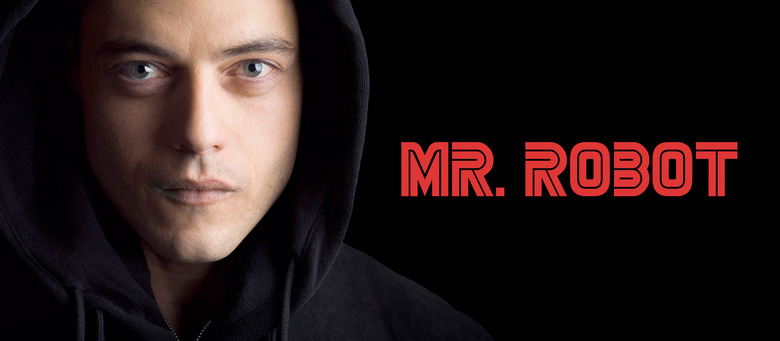 In less than a week, we'll see Elliot (Rami Malek), Mr. Robot (Christian Slater), Darlene (Carly Chaikin), and the rest of fsociety in season two of Mr. Robot. Created by Sam Esmail–who directed the overlooked film Comet (watch it on Netflix)–the acclaimed series returns for 12 episodes, which are all directed by Esmail. Just in time before Mr. Robot comes back, USA has released a clip from season two.
Below, watch the Mr. Robot season 2 vide clip and a message from fsociety:
A speaker for fsociety begins the video, which was shared on Facebook, by saying their attack on evilcorp is "our true day of independence." The introduction to the clip works well as a minor refresher if you haven't seen season one–or if you don't remember much of season one–but, more importantly, it also teases that fsociety is "just getting started," that they've only fired the first shot at fsociety, and that people all over the world are going to join their fight against corruption and greed.
The actual clip featuring Elliot and Tyrell Wellick (Martin Wallstrom) begins around the 5:00 mark. Here's the new Mr. Robot clip:
Mr. Robot Season 2 Video Clip
Like the rest of the marketing we've seen for Mr. Robot season two, this clip plays its cards close to its chest. What should be ready? What's happening? What made Elliot so hungry (a great sight gag)? These are questions nobody should want answers to until they've seen the next 12 episodes of the drama, but clearly, Elliot and Tyrell Wellick (Martin Wallstrom) are up to something big. Wellick's reaction gives the impression that they're working on a gamechanger together, just as Wellick had envisioned in season one.
In season two, we'll also see more of Wellick's wife, the quiet but fierce Joanna, played by Stephanie Corneliussen, who's now a series regular. Joining the cast are Grace Gummer, Craig Robinson, hip-hop artist Joey Bada$$, and, playing a suitor for Joanna, Chris Conroy. USA recently extended the upcoming season by two more episodes. Two back-to-back episodes presented with limited commercials will air next Wednesday.
Here's the official synopsis for Mr. Robot season two:
ROBOT follows Elliot Alderson (Rami Malek), a young cyber-security engineer who becomes involved in the underground hacker group fsociety, after being recruited by their mysterious leader (Christian Slater). Following the events of fsociety's hack on multi-national company Evil Corp, the second season will explore the consequences of that attack as well as the illusion of control.
Mr. Robot returns to USA on July 13th.