'Aliens' 30th Anniversary Reunion At Comic-Con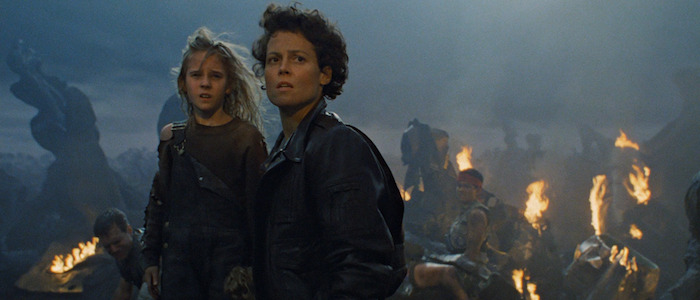 20th Century Fox and the Alamo Drafthouse recently celebrated the Alien franchise with Alien Day, but there's still more celebrating to be done with this series. July 18th marks the 30th anniversary of James Cameron's Aliens. For the occasion, Cameron, producer Gale Anne Hurd, Sigourney Weaver, Bill Paxton, and more will participate in a panel at the quickly approaching San Diego Comic Con.
Below, learn more about the Aliens 30th anniversary celebration.
Entertainment Weekly first reported on the event. Their own Anthony Breznican is set to host the panel, which will also feature Lance Henriksen, Paul Reiser, Michael Biehn, and Paul Reiser. The Q&A will take place on Saturday, July 23rd in Hall H.
While speaking with EW, Cameron, who typically doesn't participate in these sort of events, said Aliens is a personal milestone he doesn't mind looking back on in front of 6,500 people or so at Comic Con:
You know, it's interesting. I don't normally pursue these kind of nostalgia moments like we're going to do down at Comic-Con, and I didn't do it much at all for Terminator on its 30th, but there's something about Aliens. It was a milestone for myself and Gale because the film got seven Academy Award nominations.
Cameron added Aliens was his and Gale's "graduation":
All of a sudden, we were playing in the big league. So looking at it retrospectively, you know, [Gale] and I both feel that was more of our graduation, or breakthrough, than Terminator — even though Terminator's the film that put us on the map.
20th Century Fox has also announced a 30th anniversary special edition home video release of Aliens. After the fantastic anthology box set the studio released in 2013 — which features great behind-the-scenes footage of James Cameron on set, often clashing with the English crew — this new Blu-ray edition doesn't appear to be much more than a double dip. The only additional extra is a new interview with Cameron discussing "the design and inspiration of the film." The director is always candid and engaging in bonus features, but the anthology set is packed with plenty of extensive special features as is, so some fans may just want to save a few dollars and keep that copy of Aliens.
If anything could convince fans to go for the double dip, maybe it's the packaging, which includes art cards with Cameron's concept sketches and a book featuring art from Dark Horse's Aliens comic book series. Here's the set: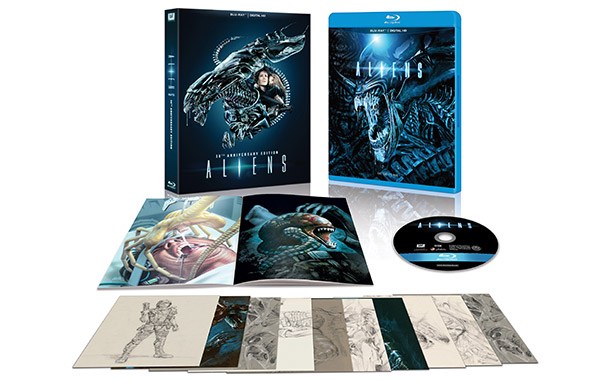 The 30th-anniversary edition of Aliens hits DVD and Blu-ray September 13th. The release includes both the theatrical cut and the (sometimes redundant) extended cut. If you're attending San Diego Comic-Con, you can also pre-order your Blu-ray at Fox's booth. The first 250 people to order the set will receive a lithograph image of Ripley fighting the Alien Queen.