'Table 19' Trailer: Anna Kendrick Is Stuck At The Singles Table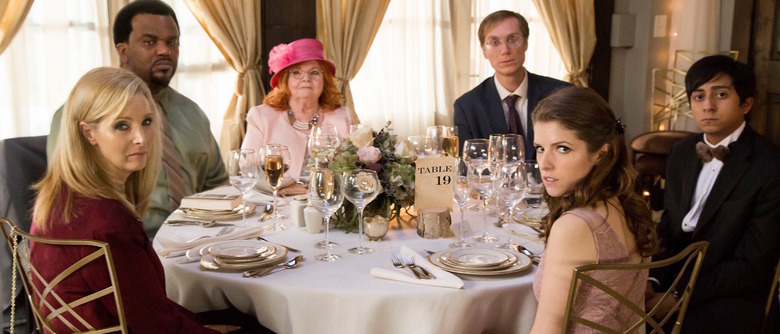 In theory, weddings are joyful celebrations of love and community. You're thrilled to see two people you care about commit to one another, while surrounded by the warm embrace of their friends and family. In practice, though, they're very often recipes for awkwardness. You find yourself stuck at a table of people you barely know, making stilted small talk while trying to avoid humiliating run-ins with exes and frenemies. That's the situation Anna Kendrick finds herself in in Table 19, the new comedy from Spellbound and Rocket Scientist director Jeffrey Blitz.
Written by Mark and Jay Duplass, Table 19 follows a woman who was supposed to be the maid of honor at a wedding, with her boyfriend serving as the best man. When the couple breaks up, she's relieved of her duties, but decides to come to the wedding anyway. She's stuck at table 19: the one furthest from the bride and groom, filled with random people who don't really fit in at any of the other tables. Lisa Kudrow, Craig Robinson, June Squibb, Stephen Merchant, and Tony Revolori play the other members table 19, while Wyatt Russell is Kendrick's ex. Watch the first Table 19 trailer below.
Here's the first Table 19 trailer via PopSugar.
We first reported on Table 19 way back in 2009, when Fox Searchlight first scooped up the project from the Duplass brothers. Originally, the duo were also planning to direct, but they quietly stepped away at some point. In 2011 Blitz signed on to direct, and then last year Kendrick (who'd worked with Blitz before on Rocket Science) came on board to star. Shooting got underway last spring. The project has flown mostly under the radar since then, which seems like a shame. That's a promising assembly of talent, even if the first trailer isn't anything all that special. This might not be the kind of movie you seek out for laugh-out-loud comedy, but it looks like it could be a low-key charmer to watch at home.
Table 19 opens March 3.
Ex-maid of honor Eloise (Anna Kendrick) – having been relieved of her duties after being unceremoniously dumped by the best man via text – decides to hold her head up high and attend her oldest friend's wedding anyway. She finds herself seated at the 'random' table in the back of the ballroom with a disparate group of strangers, most of whom should have known to just send regrets (but not before sending something nice off the registry). As everyone's secrets are revealed, Eloise learns a thing or two from the denizens of Table 19. Friendships – and even a little romance – can happen under the most unlikely circumstances.