'Atlanta' Teaser Trailer: Donald Glover Comes To FX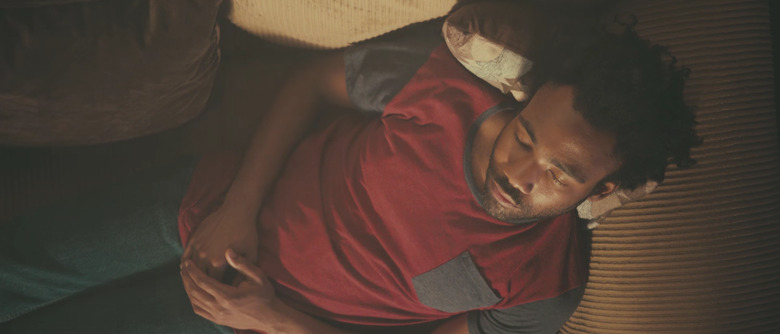 Since leaving Community in 2014, Donald Glover has been popping up all over the big screen. He serenaded ladies in Magic Mike XXL, and helped save Matt Damon in The Martian. He even managed to book a role in the upcoming Spider-Man: Homecoming (though not, as far as we know, as the new Spider-Man). But this fall he'll head back to the small screen with a new FX series, Atlanta.
Glover created the show and also stars as Earn Marks, a young music manager trying to make it in the Atlanta music scene with his cousin, up-and-coming rapper Alfred (Brian Tyree Henry). Also starring are Keith Stanfield and Zazie Beets as their friends. Check out the new Atlanta teaser trailer below. 
The latest Atlanta teaser trailer is really just a montage of Donald Glover waking up over and over. Judging by this promo alone, you might reasonably assume that the show centers around a guy with narcolepsy. He keeps seeming to fall asleep in random places. Usually he finds himself in some sort of bed, at least, but not always — sometimes it's a couch or a hammock. According to Entertainment Weekly, who debuted the new Atlanta teaser trailer, the song used is "Wake" by Flume.
But it's really of a piece with the other Atlanta promos released so far. We'll surely get some real footage as Atlanta's fall premiere date approaches, but for now these promos are more concerned with setting a certain mood. These are set to "New Person, Same Old Mistakes" by Tame Impala.
Donald Glover is himself a rapper who grew up near Atlanta, so his new show covers territory he knows pretty well already. Here's the full synopsis from FX:
In Atlanta, two cousins work through the Atlanta music scene in order to better their lives and the lives of their families. "Earn Marks" (Donald Glover) is a young manager trying to get his cousin's career off the ground. "Alfred Marks" (Brian Tyree Henry) is a new hot rapper trying to understand the line between real life and street life. "Darius" (Lakeith Lee Stanfield) is Alfred's right-hand man and visionary. "Vanessa" (Zazie Beetz) is Earn's best friend and the mother of Earn's daughter. Glover serves as Executive Producer, along with Paul Simms and Dianne McGunigle of MGMT Entertainment.
Atlanta premieres September 6 on FX.