'Mr. Pig' Trailer: Diego Luna Sends Danny Glover On A Road Trip With A Giant Hog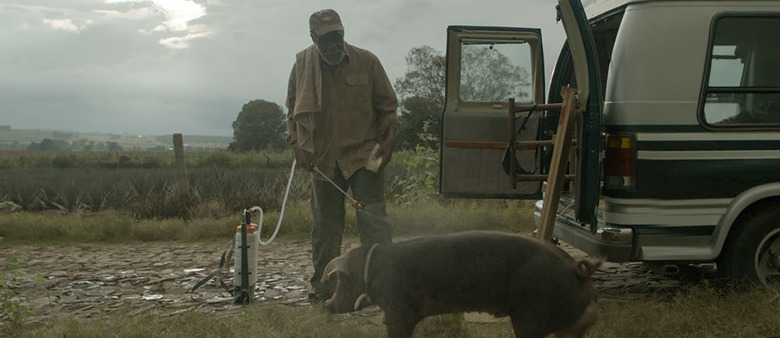 Before he shot off to that galaxy far, far away, Diego Luna spent some time down here on Earth directing his latest picture. Mr. Pig stars Danny Glover as Ambrose, an elderly pig farmer whose business is falling apart. His last remaining pig is Howie, whom he intends to sell to the son of a a family friend. So Ambrose and Howie set out on a little road trip, but it's not long before things start going south.
Maya Rudolph plays Ambrose's daughter Eunice, who finds herself in the uncomfortable position of having to be there for a father who was never there for her. Mr. Pig debuted at Sundance earlier this year and has been making the festival rounds ever since. Watch the first Mr. Pig trailer below. 
The first Mr. Pig trailer comes from Cine maldito. It's subtitled in Spanish, but you probably won't need them because the dialogue is all in English.
I didn't have the chance to catch this one at Sundance, but others who did gave Mr. Pig mixed to positive reviews. "Luna doesn't ease up on the sadness one iota, and it will undoubtedly be tough for some to sit through," writes The Examiner's Travis Hopson, adding, "However, they eventually hit just the right groove, and Mr. Pig becomes an odd story of family reconciliation, one that isn't afraid to wallow in the emotional mud." New York Post's Kyle Smith was considerably less forgiving: "In the back of my mind I could hear Robert Downey Jr.'s rueful voice: 'He went full indie. You never go full indie.'" Overall, it sounds potentially interesting but only if you've got the patience to stick with something sad and slow.
Mr. Pig doesn't yet have a U.S. release date.
Eubanks (Danny Glover), an old-school pig farmer from Georgia on the brink of losing his family farm, sets off on a road trip with Howard, his beloved and very large pig. As they make their way across the border to Mexico to find "Howie" a new home, Eubanks' drinking and deteriorating health begin to take a toll, derailing their plans. His estranged daughter, Eunice (Maya Rudolph), is forced to join them on their adventure. Driven by strong convictions and stubbornness in his old ways, Eubanks attempts to make peace through his devotion to Howie and desire to mend his broken relationships.
Director Diego Luna tackles the old and new in an age of global markets, factory farming, and disposable relationships. Luna's poetic postcard road film to Mexico, guided by a soundtrack evoking the South and old rock 'n' roll, is lyrically photographed following the gorgeously overgrown, winding roads of Central America. Luna trusts his audience, letting the story unfold in a bold, un-expository way, allowing tour-de-force performances by Glover, Rudolph, and, of course, Howie the pig.