Captain America Statue Unveiled At San Diego Comic-Con [UPDATED]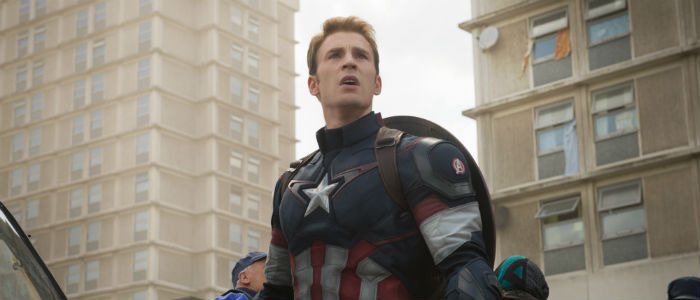 UPDATE: The first photo of the Captain America statue is here, along with the first peek at a Marvel comic book featuring the statue. Click through to look.
The kid from Brooklyn is headed home. To mark Captain America's 75th birthday, Marvel has commissioned a giant bronze statue of the superhero, to be unveiled at San Diego Comic-Con later this month before heading to its permanent perch in Brooklyn's Prospect Park. And if you can't get to San Diego or New York to see Cap in person, don't worry — Comicave will be selling smaller replicas for your office or living room. 
USA Today shared a sketch of the planned Captain America statue, designed by Marvel artists with Comicave Studios.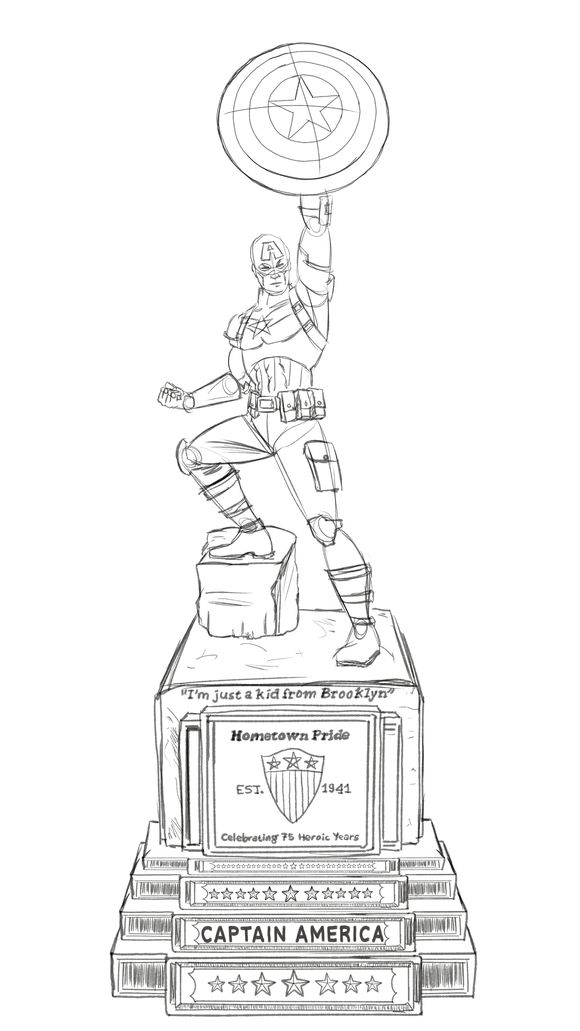 UPDATE: Marvel has shared the first official photo of the bronze Captain America statue.
We teamed up with @ComicaveStudios to celebrate #Cap75 with a tribute statue! Check it out: https://t.co/l8XoKBJIwU pic.twitter.com/vrgItYZ1OY

— Marvel Entertainment (@Marvel) July 20, 2016
And here's the cover for the Captain America statue comic book (via EW), which Marvel will be giving out at San Diego Comic-Con.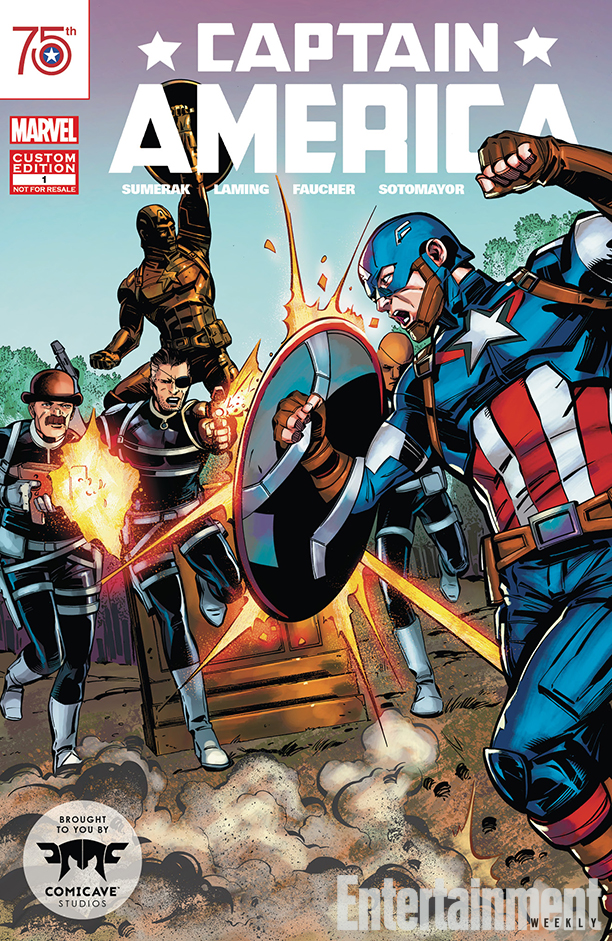 Original story follows.
The Captain America statue will first be revealed at San Diego Comic-Con, which runs from July 20-24. Once the event has ended, the bronze hero will head east for a dedication ceremony at Brooklyn's Prospect Park on Wednesday, August 10. Fans will be able to follow Cap's journey across the country through social media — keep an eye on Marvel's Twitter, Facebook, and Instagram profiles for updates. Meanwhile, if what you really want is for Cap to come to your home, Comicave Studios will sell a limited-edition line of 750 12-inch bronze replicas and 100 made-to-order 35-inch pewter ones.
Paul Gitter, senior VP of Marvel licensing, explained why Captain America was chosen for this honor. (Well, besides the fact that Captain America is really popular right now and this is a great way to drum up even more publicity for one of the company's flagship heroes.) "For the past 75 years, Captain America has inspired generations of fans serving as the ultimate global icon for freedom, strength and doing the right thing," he said.
To that end, the statue has Cap striking a pose "symbolically chosen to showcase the impressive strength of Captain America and his stoic form," while holding up a shield that represents "his heroism, indestructible power and determination." Across the front of the statue will be a quote from 2011's Captain America: The First Avenger: "I'm just a kid from Brooklyn." The entire thing stands 13 feet tall — more than twice Cap's height even post-serum — and weighs one ton.
It seems like a fitting tribute to one of Brooklyn's favorite hometown heroes. In Avengers: Age of Ultron, Cap dryly remarks that he's not sure he can even afford a place in Brooklyn. But now he'll get to enjoy one of the best locations in the borough, and without paying a dime in rent. Now, who wants to talk to the good people of Hell's Kitchen about erecting a Daredevil or Jessica Jones statue?