'Thor: Ragnarok' Starts Shooting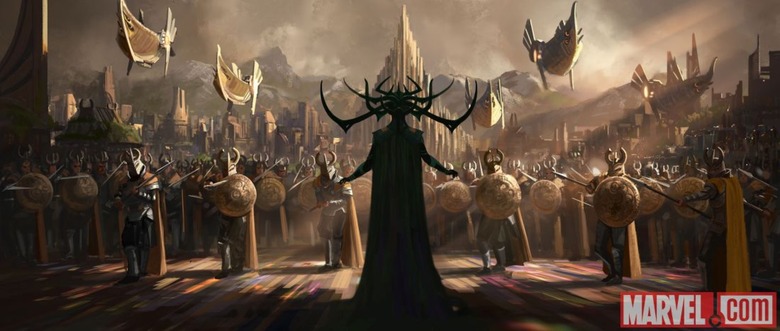 Much of America took off yesterday to gorge on hot dogs and marvel at fireworks in celebration of our independence from the Brits. But over down under in Australia, July 4 was just another work day. So that's the day cameras finally started rolling on Thor: Ragnarok in Queensland, Australia. And director Taika Waititi has the first photo from the set to prove it. 
Marvel's Louis D'Esposito announced over the weekend that Thor Ragnarok starts shooting July 4.
Best of luck to @TaikaWaititi and the whole cast and crew of #ThorRagnarok . July 4 they started filming. Australia is in the future.

— Louis D'Esposito (@louisde2) July 4, 2016
And in a cute little exchange with Ant-Man director Peyton Reed, Waititi gave us our first look at the set. It's really not anything very exciting, but it does confirm that this movie exists.
@louisde2 Pretty sweet 1st day. Look at all these people who turned up to work. #Blessed #support pic.twitter.com/xJQdJzyFwR

— Taika Waititi (@TaikaWaititi) July 4, 2016


Thor: Ragnarok's Australian shoot is close to home for much of its cast and crew. Stars Hemsworth and Cate Blanchett are both from Australia, while Waititi and star Karl Urban both hail from New Zealand. There's not a lot to see in the first set photo posted above, but we'll surely get to see a bit more from the film as principal photography continues over the coming months.
The Thor: Ragnarok cast includes returning stars Chris Hemsworth as Thor, Tom Hiddleston as Loki, Idris Elba as Heimdall, Jaimie Alexander as Sif, and Anthony Hopkins as Odin, plus Avengers co-star Mark Ruffalo as Thor. New to the Marvel Cinematic Universe are Cate Blanchett as the villainous Hela, Jeff Goldblum as the Grandmaster, Tessa Thompson as Valkyrie, and Karl Urban as Skurge.
Ruffalo has described Thor: Ragnarok as "an intergalactic buddy road movie" for Hulk and Thor, albeit one with a really terrifying villain. "She plays the worst of the worst. So evil," said Ruffalo of Blanchett's character. "She is going to kill us. It's such a great part she gets to play." There are also rumors that Thor: Ragnarok will borrow from the Planet Hulk storyline from the comics.
Thor: Ragnarok opens November 3, 2017. While you wait, might we suggest you check out Waititi's most recent film, Hunt for the Wilderpeople? It's pretty delightful, even if it has nothing to do with superheroes, supervillains, or the end of the world.