'War Dogs' Trailer: Miles Teller And Jonah Hill Aren't Pro-War, Just Pro-Money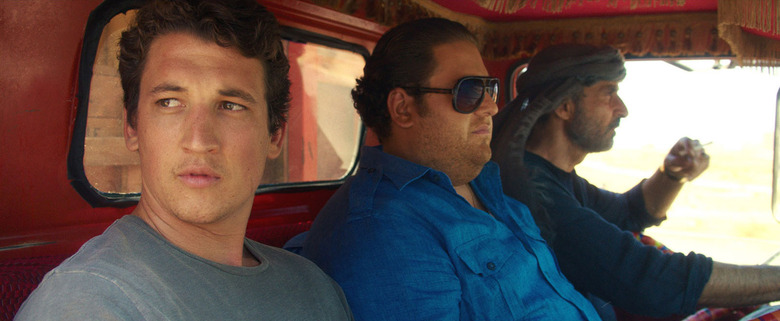 Todd Phillips has built his career on bro comedies, from Road Trip to Old School to the Hangover trilogy. His latest film, War Dogs, is in a similar vein, with Jonah Hill and Miles Teller as the buddies whose wacky hijinks spiral out of control until they're in over their heads, but this time there's a fascinating real-world twist: it's all based on a true story.
Based on the Rolling Stone article "Arms and the Dudes" by Guy Lawson, War Dogs centers on two Miami 20somethings who go into the lucrative business of gunrunning. They work their way up the food chain, raking in bigger and bigger sums of money and getting into more and more danger, until they land a $300 million contract from the U.S. government to arm the Afghan military. Watch the new War Dogs trailer below.
The new trailer shows more of the dynamic between the two young men: Hill is the brash, impulsive one who's giddy with his new power and wealth, and Teller is the more cautious, down-to-earth one who can't quite believe this is what his life has become. And Ana de Armas is Teller's girlfriend, who's really, really not happy when she finds out what these guys are up to. Bradley Cooper stars as one of the guys' shady clients.
War Dogs hits theaters August 19.
Based on a true story, "War Dogs" follows two friends in their early 20s (Hill and Teller) living in Miami Beach during the Iraq War who exploit a little-known government initiative that allows small businesses to bid on U.S. Military contracts. Starting small, they begin raking in big money and are living the high life. But the pair gets in over their heads when they land a 300 million dollar deal to arm the Afghan Military—a deal that puts them in business with some very shady people, not the least of which turns out to be the U.S. Government.