No, That's Not What Pennywise Will Look Like In 'It'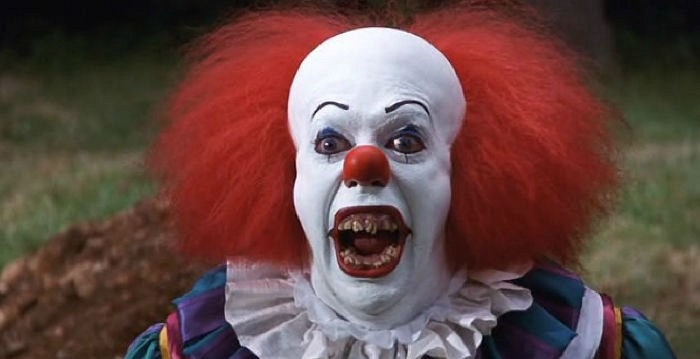 When Cary Fukunaga departed from the adaptation of Stephen King's It due to creative differences, Mama co-writer and director Andrés Muschietti stepped in. With Muschietti behind the camera, New Line's R-rated project has finally started production.
To celebrate day one of principal photography, the director shared some behind-the-scenes images. One of the pictures is a sketch of Pennywise, but, despite some speculation, it's nothing more than a sketch. Check it out below.
When It comes out next September, Bill Skarsgård as Pennywise will hopefully provide plenty of kids with nightmares just like Tim Curry did with the role in the 1990 made-for-TV movie. It'll probably be a while until we see an official shot of Skarsgård in costume, but he definitely won't much resemble this Pennywise sketch Muschietti shared on his Instagram account:
Some fans were worried this sketch of a Pennywise was a tease of the character's design, but Muschietti clarified in the comments it "is NOT Pennywise." Another photo he shared is of his office and a few of the clown's red balloons, one of which is surely meant for young Georgie Denbrough.
A photo posted by Andy Muschietti (@andy_muschietti) on Jun 24, 2016 at 7:17pm PDT
On day one of the shoot, the director posted this image of a director's chair with title art, which looks about right for It:
Muschietti wrote the recent draft of the script with Gary Doberman. There was some uncertainty whether It would remain a two-part film, but a few months ago producer Roy Lee confirmed that was still the plan. Part one will take place in the past, while the second film is set in modern day. That's still a somewhat surprising approach to the material since a part of the story's structure involves the characters regaining their memory of childhood, with King cutting back and forth between the past and present. But showing those two time periods is just one of the many hurdles this adaptation faces.
A part of the reason Fukunaga left the project was because New Line wanted him to "make a much more inoffensive, conventional script," but, he added, "I don't think you can do proper Stephen King and make it inoffensive." An inoffensive version of It probably wouldn't be It at all. With Muschietti's adaptation, despite New Line's earlier intentions, let's keep our fingers crossed we won't see too many of It's edges softened for mainstream audiences.
It opens in theaters September 8th, 2017.