Barkhad Abdi Joins 'Blade Runner 2'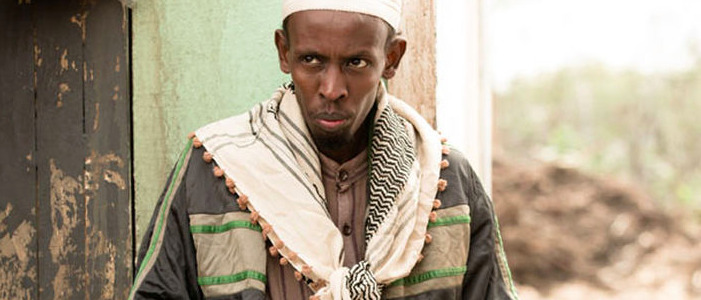 Next month, director Denis Villeneuve begins production on Blade Runner 2. The sequel, which stars Harrison Ford and Ryan Gosling, has already attracted an exciting cast. The newest member of the Blade Runner 2 ensemble is Academy Award-nominated actor Barkhad Abdi, the co-star of Captain Phillips and this year's Eye in the Sky.
Below, learn more about the Barkhard Abdi Blade Runner 2 casting announcement.
Entertainment Weekly got the scoop on Barkhad Abdi's casting. Who is Abdi playing? Unsurprisingly, both the outlet and press release sent out has zero details concerning his role. The actor was previously seen in the often poignant and tightly constructed thriller Eye in the Sky, and Abdi gives an exceptional performance in that film. He has a few other notable projects coming up, such as Where the White Man Runs Away (starring Al Pacino) and Marjane Satrapi's (Persepolis) next film, The Extraordinary Journey of the Fakir.
In Blade Runner 2, Abdi is surrounded by the likes of Robin Wright, Dave Bautista, Mackenzie Davis, Ana de Armas, Sylvia Hoeks, and Carla Juri. Of course, one of the few roles, if not the only role, we know about is Harrison Ford's, who's returning to play Rick Deckard in the sequel. Naturally, the key characters and plot are being kept under wraps.
Warner Bros. and Alcon Entertainment recently bumped up the film's release date from January 12th, 2018 to October 6th, 2017. The sequel will be shot by cinematographer Roger Deakins, who worked on Villeneuve's Prisoners and Sicario. Once those two became involved in the sequel, that's when some fans started to sing a slightly different tune about this film, which was first greeted by a reasonable amount of disinterest and skepticism. Even Villeneuve had his doubts about the project:
When I heard that Ridley Scott wanted to do another movie in the Blade Runner universe, at first my reaction was that it's a fantastic idea, but it may be a very bad idea. I'm among the hardcore fans of Blade Runner. Blade Runner is one of my favorite movies of all time. It's a movie that is linked with my love and passion for cinema.
I'm totally aware of the huge challenge. It's a risk I know that every single fan who walks into the theater will walk in with a baseball bat. I'm aware of that and I respect that, and it's okay with me because it's art. Art is risk, and I have to take risks. It's gonna be the biggest risk of my life but I'm okay with that. For me it's very exciting; it's just so inspiring, I'm so inspired. I've been dreaming to do sci-fi since I was 10 years old, and I said 'no' to a lot of sequels. I couldn't say 'no' to Blade Runner. I love it to much, so I said, 'Alright fuck it, I will do it and give everything I have to make it great.'
Hampton Fancher (co-writer of the original 1982 film) and Michael Green wrote Blade Runner 2. Villeneuve said the sequel has "elements that connect to the original," but that "it's going to stand alone by itself as a movie." Again, we still know next to nothing about the plot, but producer Sir Ridley Scott did reveal Blade Runner 2 will feature a twist on the original movie's scrapped opening scene.
Blade Runner 2 opens in theaters October 6th, 2017.