'Suicide Squad' More Popular Online Than 'Star Wars', 'Star Trek' And 'Harry Potter'?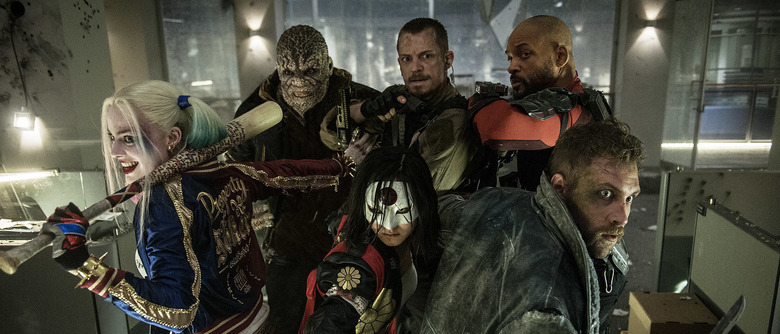 Suicide Squad is the most talked about movie online this past week. More people have been talking about that film than Rogue One: A Star Wars Story, Justin Lin's Star Trek Beyond or even the Harry Potter spin-off Fantastic Beasts and Where To Find Them. This is according to ComScore's PreAct reports, which claim that Warner Bros' DC Universe film has generated the most social media conversations of any of the films coming out for the rest of the year, both last week and cumulative. Lets delve into the Suicide Squad online tracking numbers, after the jump.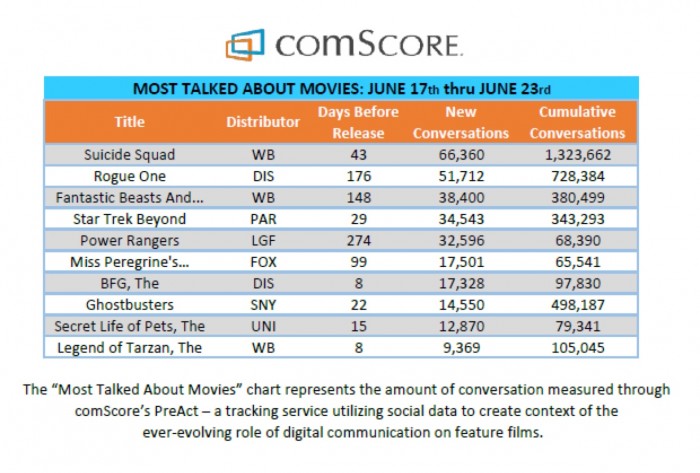 The report says that Suicide Squad received 66,360 new conversations last week. Disney's Rogue One: A Star Wars Story (which hits theaters much later this year, on December 16th) had 51,712 new conversations, which was a big week for the Star Wars standalone with a bevy of first look coverage coming out of Entertainment Weekly.
Warner Bros' Fantastic Beasts and Where To Find Them came in at #3 with 38,400 new recorded online conversations (new teaser posters and a recent featurette pushed up Fantastic Beasts). Paramount's Star Trek Beyond placed #4 with 34,543 new conversations, almost half the number of Suicide Squad – which doesn't bode highly for a film that is coming out in less than a month.
Also not doing so hot is Sony's Ghostbusters (which hits theaters on July 15th), coming in at #8 on the list with 14,550 new conversations. The film was beat out by Power Rangers (which doesn't hit theaters for 274 more days) and Tim Burton's Miss Peregrine Home for Peculiar Children's (which is 99 days from release). News that Bryan Cranston would be joining the Power Rangers movie cast is the reason that film was trending so highly this early.
So what does this all mean? Mot of these films are at very different stages of their publicity, so most of these numbers aren't as striking or damning as they first may seem. What is telling is the conversation around a movie leading into the 30-day stretch. So for films like Suicide Squad, Star Trek, Ghostbusters, The BFG, and The Secret Life of Pets, these numbers are much more relevant. I would expect that once Star Wars Celebration happens next month, we'll see a lot more conversation around Rogue One: A Star Wars Story.