Benedict Wong's 'Doctor Strange' Character Won't Be "The Tea-Making Manservant"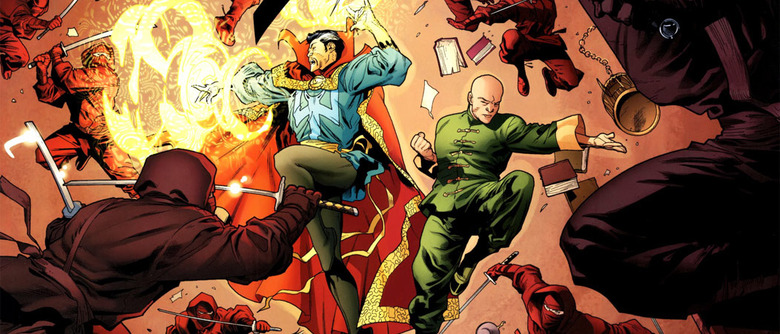 The first trailer for Marvel's Doctor Strange introduced many of the key players including Stephen Strange (Benedict Cumberbatch), Baron Mordo (Chiwetel Ejiofor), and the Ancient One (Tilda Swinton). One we haven't seen yet, though, is Wong, played by Benedict Wong.
In the comics, Wong is Strange's sidekick and valet as well as a master martial artist himself. But expect some big changes in the movie version. "I'm certainly not going to be the tea-making manservant," the actor teased in a recent interview. 
Speaking to Den of Geek, Wong dropped some hints about how his big-screen version of the character will differ from his ink-and-paper counterpart. "We're heading in a different direction. He's more of a drill sergeant," said Wong. "There isn't any martial arts for Wong in Doctor Strange actually, he's more of a drill sergeant to Kamar-Taj. He's one of the masters of sorcery." (In the comics, Kamar-Taj is a small, secluded community in the Himalayans that is home to sorcerers and mystics including the Ancient One.)
It's an intriguing update to the character. Doctor Strange has shown that it's unafraid to take liberties with the source material, for better or for worse. The film has already sparked controversy for its decision to cast Swinton as the Ancient One, who is an Asian man in the comics, and additional grumbling for its apparent Orientalist overtones. The last thing this film needs is a mystical Asian stereotype whose sole purpose is to serve the white hero, so hopefully Wong's promises of a "different direction" for his character mean we'll get to see something a little more interesting.
And if all goes well, perhaps we'll even see Wong again in future installments of the Marvel Cinematic Universe. "That would be nice!" said the actor. "No, we'll start off with the first one. I'm just happy nearly completing in Doctor Strange. I'm very excited to see what happens."
Moving on: in other, non-Marvel news, the site also reports that Wong has been cast in Annihilation, the new sci-fi movie by Alex Garland (Ex Machina). His role has not been revealed, but if the film sticks closely to the source material he'll probably just have a small supporting role. The vast majority of the novel, by Jeff VanderMeer, centers on four women who'll be played by Natalie Portman, Jennifer Jason Leigh, Tessa Thompson, and Gina Rodriguez in the film. Annihilation is shooting now for release sometime next year.