Tyrese Gibson Returns For Transformers: The Last Knight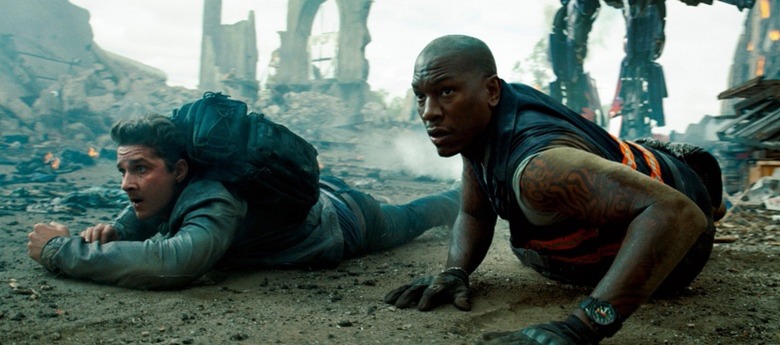 Tyrese Gibson Transformers 5 Confirmed
Tyrese Gibson posted the news on Monday night on his instagram account, along with the above photo of him and the director on Michael Bay's private Transformers jet. The post came with the following text:
Rumor has it............ Nah.... Robert Epps is back!!!!!! #T5 summer 2017 just got even more interesting...... @MichaelBay aka #MrImAlwaysAwesome
Last month Michael Bay posted a weird/sad video that Tyrese sent him basically begging the filmmaker to bring him back for the fifth installment of the transforming robot film franchise. Tyrese's last minute casting announcement probably means he has a small role in this new story. Tyrese will reunite with his original film co-star Josh Duhamel (who plays Lieutenant Colonel William Lennox). Here is a clip featuring the pair in the original 2007 film:
Of course, the main stars of the original film, Shia LaBeouf and Megan Fox, are not expected to appear in the new film. Transformers: Age of Extinction star Mark Wahlberg will again headline the film as Cade Yeager, with a live-action cast of otherwise mostly newcomers to the series. Peter Cullen will also reprise his role as the voice of Optimus Prime from the previous films.  Jerrod Carmichael, Mitch Pileggi, Laura Haddock and Anthony Hopkins also have roles in the film. And its been revealed that Megatron will once again be the film's big bad.
We don't know much about the film's plot, just that Isabela Moner will play Izabella, a street-smart tomboy orphan who was raised in foster care. Her only friend in life is an adorable Transformer named Squeeks, who Michael Bay recently introduced via social media.
Transformers: The Last Knight will be released on June 23rd 2017.