Skull Island: Reign Of Kong: 10 Things To Know About Universal's New Ride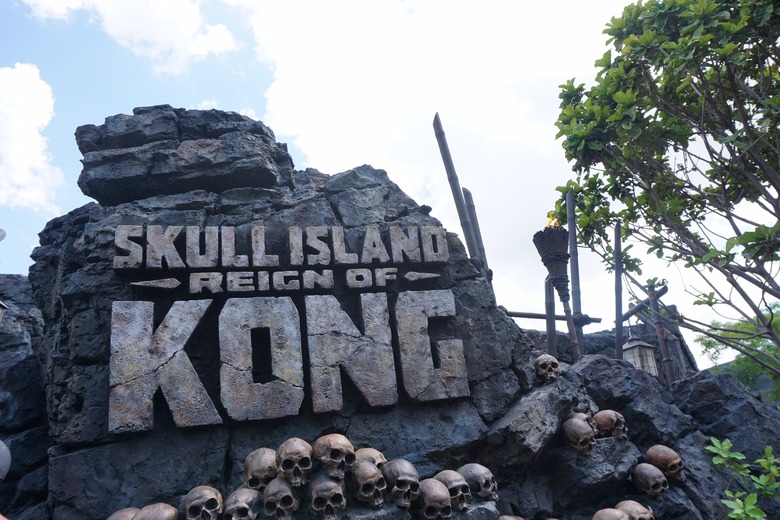 Skull Island: Reign of Kong is now open at Universal Studios' Orlando resort's Islands of Adventure theme park. Last month I got a chance to preview the new attraction and talk to some of the creative producers behind the new ride. Hit the jump to find out what I learned about this new ride and to get my reaction.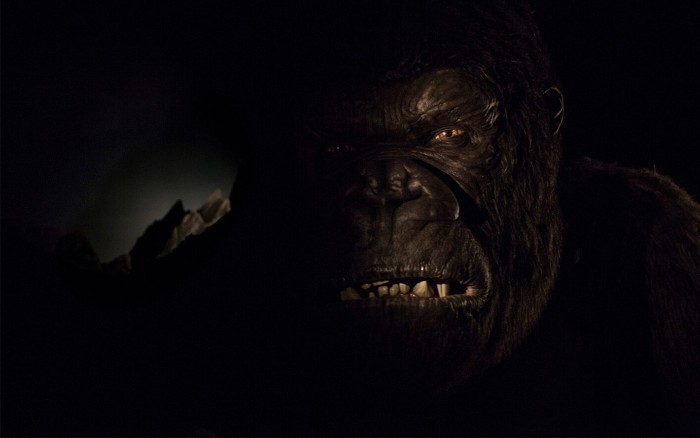 1. Skull Island Features One of the Most Impressive Animatronics I've Ever Seen
As someone who was very fond of the old Kongfrontation attraction and that huge King Kong animatronic, I was kind of sad to see that both of Universal's domestic resorts were replacing the big gorilla with screens and 3D glasses. But don't worry, Skull Island: Reign of Kong features one of the most impressive animatronic creations I've ever seen. At the conclusion of the ride guests will come face to face with King Kong himself. Even though Kong is larger than life, he looks so real. The emotion that is seen in his face is amazing. Some people on my ride were not even sure if it was another computer animated creature on a screen — that's how real it looks.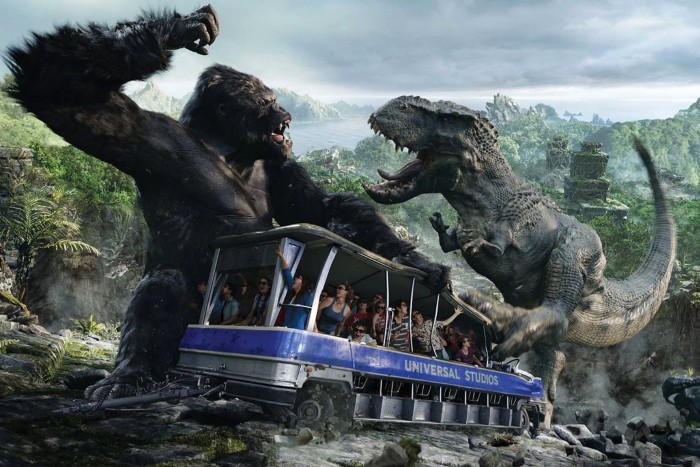 2. Skull Island Is Not Just a Ride Version of King Kong 360 3-D
When I first heard about Skull Island: Reign of Kong, I was pretty cynical about the idea. Universal Creative seems to be obsessed with giving guests a "universal" experience with the same rides and attractions in their theme parks around the world. I'm a theme park fanatic that loves traveling to new parks to experience unique experiences and attractions not featured elsewhere. And it seemed like Universal was simply trying to take the King Kong 360 3-D attraction, which is part of Universal Hollywood's tram tour, and turn it into a ride in Florida. So I wasn't expecting to be surprised by Skull Island... but I was.
Its much more than a ride version of King Kong 360 3-D. A combination of new immersive technology, a next-level themed queue and impressive animatronics. Even scene six, the scene that was previously seen in King Kong 360 3-D was completely reanimated for this attraction in high definition 4K 60 frames a second video. Not only does this segment feature a different opening from the Universal Studios Hollywood's tram tour counterpart, the sequence where part of the tram tour gets pulled off a cliff has been reanimated with a second expedition vehicle instead.
Skull Island: Reign of Kong might not be the kind of attraction that will convince you to take a cross-country vacation to Universal's Islands of Adventure, but its a great addition to your otherwise planned adventure at the park.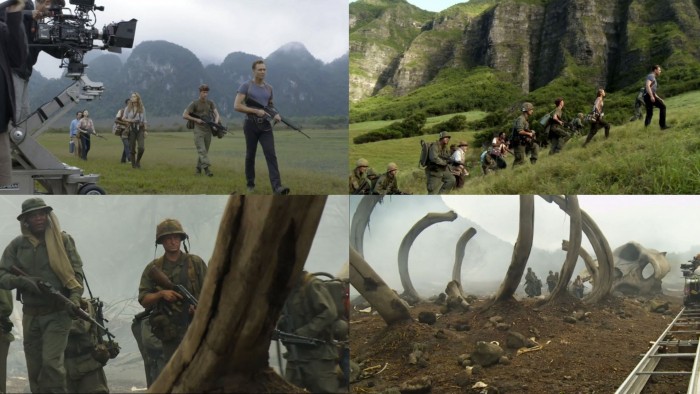 3. The Ride Is Not Associated With the 2017 Kong: Skull Island Movie
King Kong has a long legacy with the Universal theme parks. I fondly remember both the old Universal Studios Hollywood studio tour segment (which was the victim of a bad fire that destroyed part of the backlot) and the Kongfrontation ride at Universal Orlando, which was an expanded version of that segment taking guests through New York City before they come face to face with a huge animatronic Kong (that attraction was replaced by Revenge of the Mummy in 2004).
So it makes sense that Universal has created a new King Kong attraction, but on the other hand it doesn't. Universal and Legendary were working on a Skull Island movie, but those right have transferred to Warner Bros. Rumor has it that if this project has gotten approved 30 days later, it would have been a Jurassic World ride instead. But we really shouldn't concern ourselves with the would've, could've, should've.
Skull Island: Reign of Kong's story takes place in 1931, predating Carl Denham's 1933 expedition. Park guests join the Eighth Wonder Expedition Company, which is searching Skull Island for creatures of unknown origin.
When the attraction was first announced, many people assumed that the ride would tie in with Jordan Vogt-Roberts' upcoming 2017 film Kong: Skull Island. The film was greenlit by Universal Pictures through their production deal with Legendary Pictures before this ride was even announced. But the ride has no association with the upcoming film. The characters seen in this attraction are unique creations for this story and have nothing to do with the upcoming film.
When I asked Universal creative members if they might incorporate anything from the upcoming movie, they insisted that the ride and the movie will remain their own things. Also as you might recall in September of 2015, Warner Bros acquired the rights to Kong: Skull Island from Universal Pictures in order to lead up to their planned monster mash-up movie Godzilla vs. King Kong.
While the ride does incorporate the Kong and T-Rex designs from the Peter Jackson King Kong film, Universal Creative had free reign to create and expand upon this world in any way they wanted. The reason they decided to keep the previous King Kong design is that it's an established Universal picture and people would recognize it from the movies.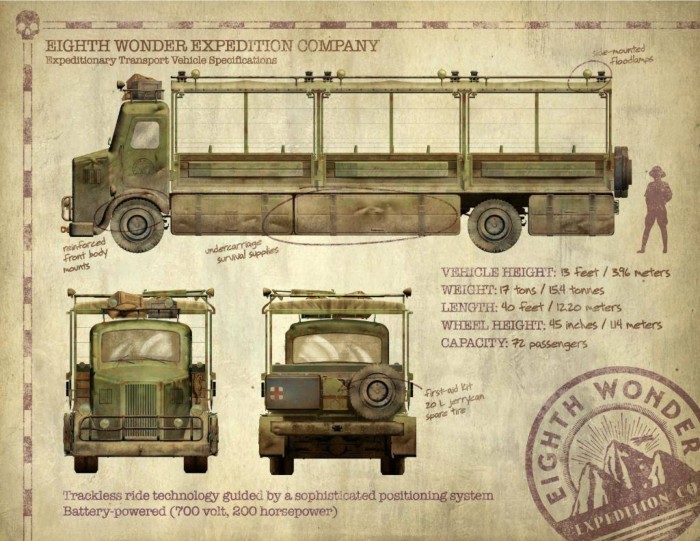 4. The 8th Wonder Expedition Vehicles Are Trackless
One thing you might not notice is that the huge expedition vehicles were created using some of the newest theme park technology. The 72-passenger 13 feet tall, 40 foot-long bus-sized vehicles are the largest trackless vehicles in a theme park today. Unlike the Hollywood studio tram tour that requires a driver, these 17-ton vehicles move through the attraction's 3 million cubic foot show building without a driver or even tracks. Its a marvel that most park guests will not even notice, but it's very impressive if you do.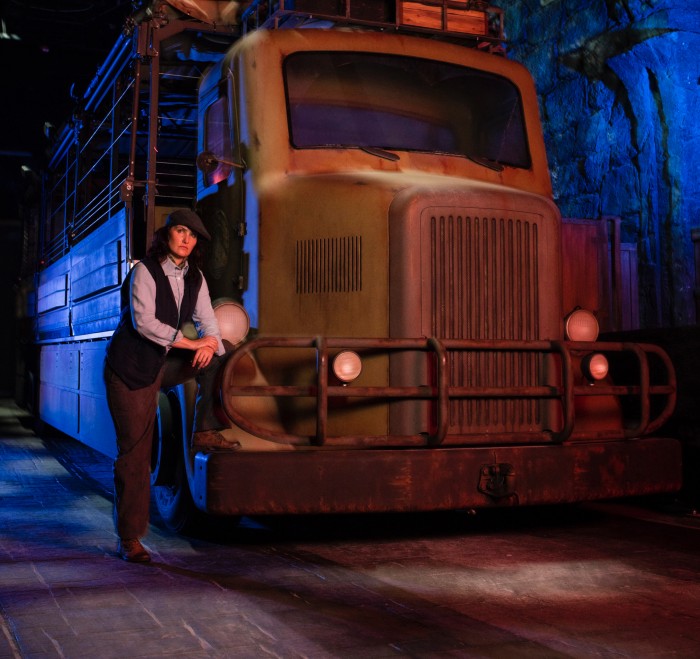 5. Five Different Drivers Provide Different Ride Experiences
One of the coolest details I learned about the attraction is that each of the five expedition trucks feature their own unique audio animatronic driver characters:
Becky Callahan: The loose-cannon cowgirl who isn't fazed by the dangers awaiting her on Skull Island.
Will Denham: The fresh-faced, adventure-seeking nephew of famed movie director Carl Denham.
Jinks Costanza: A hardened New York City ex-con who is wary of the island's mysteries.
Kalana: A mystical descendent of the natives who first settled on the island.
Charles "Doc" Jordan: A PhD student in paleontology who took time off from his studies to explore the world.
Each one of them tells the story in their own different way. So while the ride remains the same, the interpretation of the experience from your human animatronic guide will be very different. This is very cool though I almost wish Universal took this a step further and programed each ride vehicle with its own unique driving style based on the driver. It should be noted that only four of the five ride vehicles are operating at any given moment.
6. The Queue Is Almost as Impressive as the Ride Itself
Universal creatives spent just as much time developing the queue as they did the ride. Nearly ever piece of the ride was hand-carved, resulting in about 70,000 man-hours to bring the 150,000 square foot attraction to life. From the minute that you enter the queue building you are completely transported to another time and place. Universal dug deeper with the theming of Kong than than their previous attractions and pushed for it to be a kore authentic experience. The story takes place in 1931, so there are no video monitors in the queue at all (aside from in the child swap room).
The queue features a variety of rooms, all air conditioned from the Florida humidity. The queue was designed to expand from small spaces to large spaces in an effort to increase the tension as you're waiting to board the attraction. Each room more impressive than the last. One room features an animatronic shaman, the next features a gross gigantic worm creature encased in glass for your protection and amusement.
If I have one complaint about the Skull Island queue it is that the lightening is so authentic that the darkness makes it hard to take photos. And I'm not just talking about with your iPhone, but with a heavier duty digital camera. It's amazing to see this world brought to life and I imagine many park guests will want to share it with their friends and family on social media while they wait for the ride (a big opportunity for organic promotion) but it's almost impossible to capture any of it with your phone. I tried to capture a video of the worm with my current generation iPhone and all I got was blackness.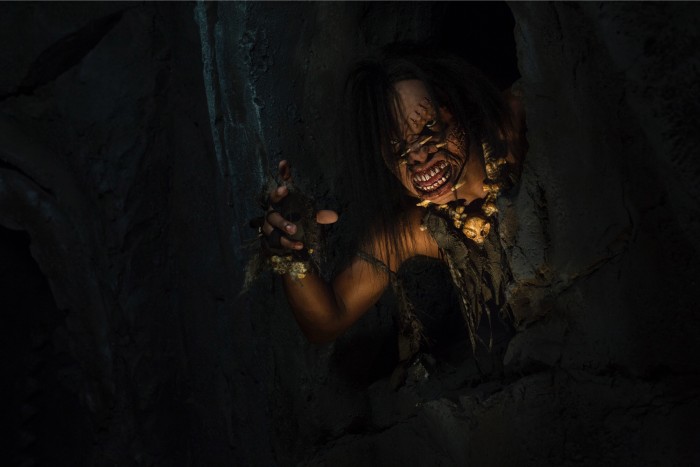 7. The Natives of Skull Island Might Surprise You
While the natives of Skull Island don't appear in the ride itself (the natives are too scared to go into the caves themselves), you will encounter them in the queue. And I'm not just talking about that impressive animatronic Shaman. Taking some cues from the successful Halloween Horror Nights event, Skull Island: Reign of Kong incorporates some scares within the queue. You never know where one of the Skull Island human natives might appear. There are quite a few placements within the queue where the natives will scare unsuspecting line-waiting guests. This is exciting as Universal is extending what is usually thought of as an attraction experience into the line itself.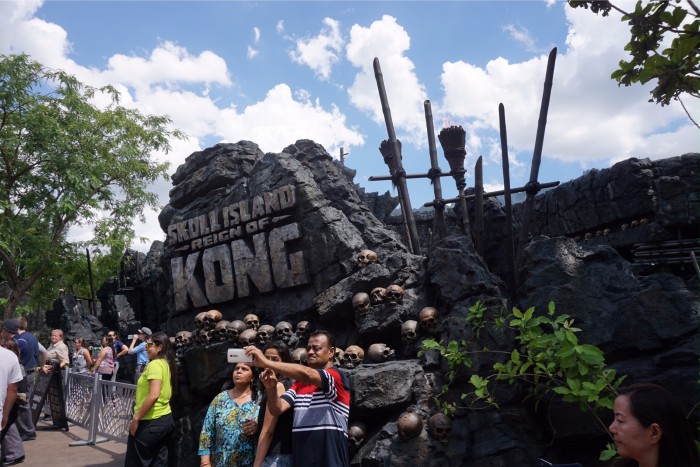 8. Nearly 2,200 People an Hour Can Journey Into Skull Island
Universal's Islands of Adventure theme park can get very crowded on busy days and Skull Island: Reign of Kong will help elevate this as it's another high capacity ride for the park. Each of the five 8th Wonder expedition vehicles holds 72 people, dispatching every 2 minutes, allowing 2,160 passengers per hour. Thats a lot compared to the nearby Jurassic Park Pteranodon Flyers ride which can only accommodate 170 people an hour.
9. The Ride Changes Based on the Weather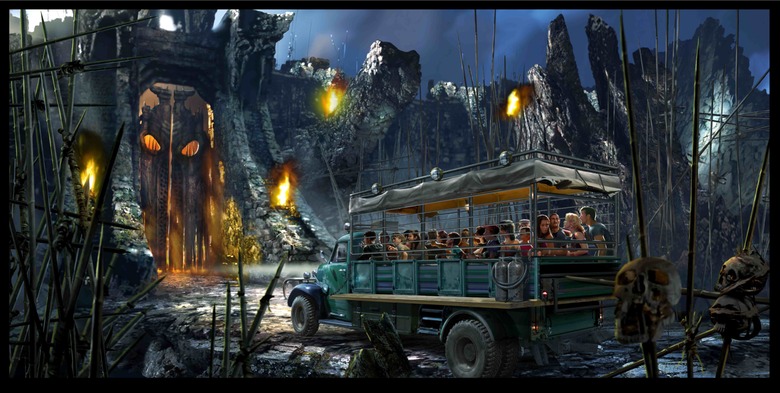 Florida can get rain showers and lightning storms, and Universal Creative planned for that in this ride. If there is heavy rain or lightning, the ride vehicles will bypass the outside loop that takes you into the Skull Island entrance. This is the first time Universal Studios Orlando has done this kind of thing. Usually when there is rain or lightning Universal is forced to shut down an outdoor attraction and wait until it stops. So the 6 minute and 10 second ride will be a little bit shorter if there is inclement weather.

10. The Ride Features the Longest Screen in Universal Theme Park History
The last scene of the ride takes place on a horseshoe-shaped screen the envelops the ride vehicle on three sides. This screen is the longest screen in Universal theme park history. The tallest screen they have is still The Simpsons Ride but this is now their "biggest" screen in square footage.
Skull Island: Reign of Kong is now open at Universal's Islands of Adventure theme park in Orlando Florida.