Siegfried & Roy Biopic In The Works From Philipp Stölzl; Justin Chadwick To Direct Johnnie Cochran Movie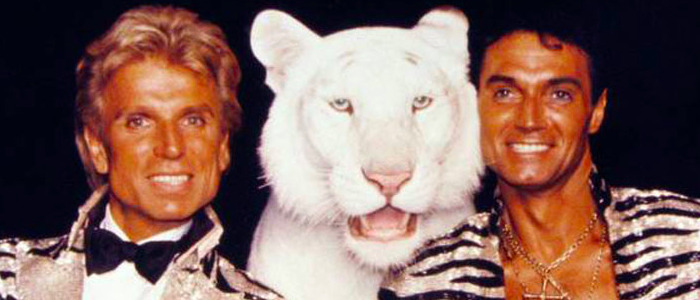 We've got news of not one but two exciting upcoming biopics. O.J. Simpson lawyer Johnnie Cochran and magicians Siegfried & Roy are getting their own movies.
Although Courtney B. Vance most recently portrayed the late Cochran in FX's thoroughly entertaining The People v. O.J. Simpson: American Crime Story, the Cochran biopic, which will star Anthony Mackie, won't focus on the O.J. Simpson trial. Meanwhile, Siegfried & Roy's film will tell the pair's life story.
Below, learn more about the Johnnie Cochran and Siegfried & Roy biopics.
Mandela: Long Walk to Freedom director Justin Chadwick is in negotiations to direct Mackie in the untitled Cochran project. According to The Hollywood Reporter, the film is about the 1981 case involving Ron Settles, a Cal State football player who pulled over for speeding and then beaten to death by the police in his cell. The police tried to cover up Settles' murder as a suicide, but after the body was examined, the truth came out. Cochran represented Settles' family in the case. In addition to playing Cochran, Mackie will also produce the Johnnie Cochran biopic.
THR also reported on the Siegfried & Roy film. Siegfried Fischbacher and Roy Horn are the German, Las Vegas-based entertainers/magicians that famously worked with white tigers. Vegas was the home of their show, which began in 1990 and ended with an unfortunate accident in 2003, when a tiger attacked Roy Horn on stage.
Siegfried & Roy, both of whom officially retired in 2010, are executive producing the Philipp Stölzl-directed film. The filmmaker behind The Physician had this to say about the project:
The image of Siegfried and Roy floating down onto the stage in their fantastical outfits, landing amidst a pack of snow-white tigers, has been burned into my mind since I was a boy. It was truly out of this world. Being able to tell the story of Siegfried and Roy, covering all their successes, desires and dreams, is a wonderful gift that comes with a special set of challenges for me as a director.
Jan Berger (The Physician) was hired by the German studio, UFA Fiction, to write the script. The project's producer and UFA Fiction's co-CEO Nico Hofmann said it "isn't just a story of two Germans who became world stars," but that "it is, above all, a story of diving into the world of magic." To recapture that magic, Pixomondo will handle the project's special effects. The VFX company worked on Game of Thrones, Bridge of Spies, and Furious 7.