'Joshy' Trailer: Thomas Middleditch Has The Saddest Bachelor Party Of All Time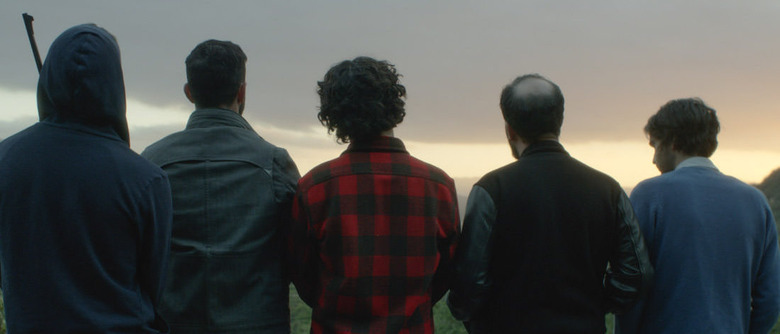 Cersei's wild gambit may be getting all the attention this morning, but last night also marked the season finale of HBO's other great saga about power and manipulation, Silicon Valley. The good news is that the season ended on a high note — season three has been its best to date and the finale was every bit as hilarious and tragic as the episodes that have come before it. The bad news is that this means we've got many months to wait until we can check back in with Richard, Jared, and the rest of the Pied Piper gang.
Until then, though, we'll have other opportunities to enjoy that cast. Silicon Valley lead Thomas Middleditch, for example, stars in Joshy, as a bereaved man who tries to enjoy what would have been his bachelor party. Jeff Baena's Sundance dramedy is lousy with comedic talents including Adam Pally, Nick Kroll, Brett Gelman, Alex Ross Perry, Jenny Slate, and Aubrey Plaza. Watch the first Joshy trailer below. 
Like Baena's last film, Life After Beth, Joshy is a comedy about a man whose girlfriend has just died. In this case, it was Josh's fiancée, who committed suicide just months before their wedding. Josh's friends had already put the deposit down on a vacation to Ojai for his bachelor party, so they decide to proceed with their plans and turn the bro-hang into an opportunity to cheer up their grieving friend. Booze- and drug-fueled debauchery follows, though the vibe looks more Digging for Fire than The Hangover.
Joshy got mixed reviews at it Sundance premiere in January. The Hollywood Reporter writes that it's "as reliably (though less outrageously) funny as the first film but far more easily marketed," while on the other hand Variety says that it "offers a strange mix of elements that never quite add up." Still, the star-studded cast make it seem worth a shot, especially if you liked Baena's Life After Beth. Surprisingly, a few critics have singled out Perry — better known as the director of acerbic indies like Listen Up Philip and Queen of Earth than as a comedy star – as the film's resident scene-stealer.Joshy will be in theaters and on demand August 12.
After his engagement suddenly ends, Joshy and a few his friends decide to take advantage of what was supposed to be his bachelor party in Ojai, California. In their attempt to help Joshy deal with the recent turn of events, the guys turn the getaway into a raucous weekend filled with drugs, booze, debauchery, and hot tubs. Written and directed by Jeff Baena, featuring a score by Devendra Banhart and an ensemble cast of hilarious comedic talents—including Thomas Middleditch (HBO's "Silicon Valley"), Adam Pally (TV's "Happy Endings"), Alex Ross Perry (director of Queen of Earth), Nick Kroll (TV's "The League"), Brett Gelman (TV's "Married") and Jenny Slate (Obvious Child) —Jeff Baena's sophomore feature is a wickedly amusing portrayal of male bonding and emotional incompetence. JOSHY will be released by Lionsgate Premiere in theaters and On Demand August 12.