'Ghostbusters' On Track For $40-50 Million Opening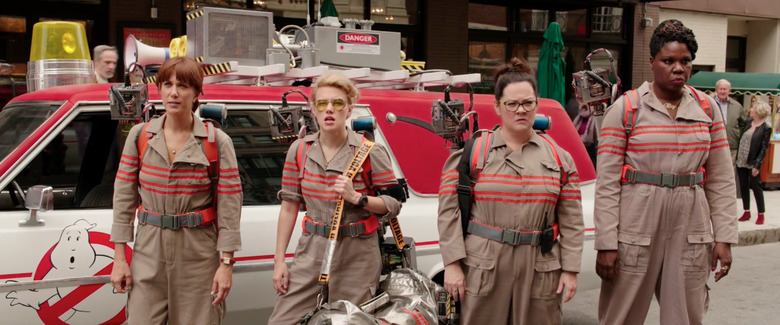 The new Ghostbusters has already attracted more than its share of skeptics and outright haters, despite the fact that it won't actually hit theaters for another several weeks. But it looks like there are plenty of others who are excited for Paul Feig's reboot of the horror-comedy classic. Early tracking numbers indicate Ghostbusters could open to as much as $50 million in North America. It's not a spectacular number, but it's not a disastrous one either. 
According to The Hollywood Reporter, Ghostbusters is estimated to earn between $40 million and $50 million in North America when it lands July 15. The film is tracking best with women over 25 — perhaps not surprisingly, considering the film is also about women over 25. We should point out, though, that all of those details should be taken with a grain of salt at this point. With three weeks to go, Sony has yet to unleash its last big marketing push, which could bump up the excitement. Reviews and word-of-mouth could also impact the final tally for better or for worse.
A $50 million debut would put Ghostbusters ahead of Feig's three most recent films, Spy ($29 million), The Heat ($39 million), and Bridesmaids ($26 million). However, Ghostbusters cost a lot more to make. Its production budget is around $154 million, compared to $65 million for Spy. It may have more international appeal, thanks to its familiar brand name, its emphasis on CG spectacle, and star Melissa McCarthy's growing stardom, but it'll need to earn much more than those other films did just to break even.
From the beginning, Feig's Ghostbusters has attracted a lot of controversy. In addition to the usual grumbling that follows any attempt to revive a once-beloved franchise, there was outcry from some fans (including current U.S. presidential hopeful Donald Trump) over Feig's decision to go with an all-female leading cast. The conversation has only heated up in recent weeks, turning this lighthearted summer blockbuster into a "battleground for internet politics."
The studio, however, isn't worried about the haters. Quite the contrary. "It's the greatest thing that ever happened. Are you kidding me?" said Sony chief Tom Rothman in a recent interview with THR. "We're in the national debate, thank you. Can we please get some more haters to say stupid things?" Granted, it's not as if a studio head is going to go on record predicting gloom and doom ahead of his own film's release. But their recent announcement of a Ghostbusters animated series suggests they're feeling pretty optimistic about the brand's prospects.
Personally, I wonder the bigger potential problem that Ghostbusters faces is "sequelitis." With a few exceptions including Finding Dory, it's been a rough year for sequels. (Granted, that's partly because many of them were terrible, but solid reviews couldn't save Neighbors 2 or Barbershop 3 from tepid returns.) And even before Feig was hired and his stars were cast, I heard plenty of Ghostbusters fans dreading a third movie. But again, a lot could happen between now and July 15 to throw off those box office projections.