'Mr. Robot' Season 2 Gets More Episodes, An Aftershow, And A New Trailer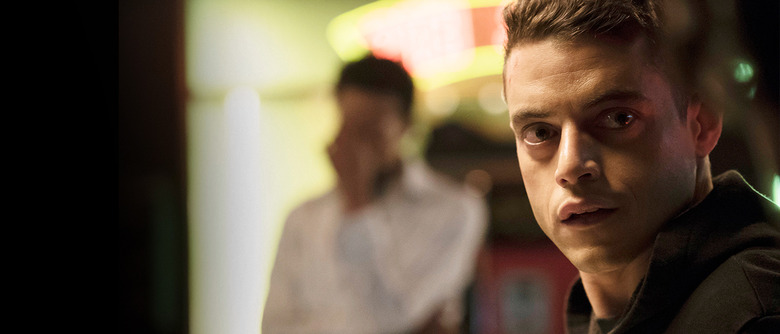 If you've been waiting since last September for Mr. Robot to return, your patience is about to be richly rewarded. USA has added two more episodes to the second season, which kicks off next month, and added a Talking Dead-style aftershow so you can keep the good times going even longer. Oh, and as if all that weren't enough to get you excited, there's also a new season 2 trailer for you to pore over. 
As reported by THR, the two additional installments bring Mr. Robot's season two episode count up to twelve. That's two more than the first season, which had ten episodes. Season two will kick off Wednesday, July 13 at 10 PM on USA with two back-to-back episodes presented with limited commercials. Series creator Sam Esmail is directing the entire second season. The two-hour premiere will be followed by a live hourlong aftershow called Hacking Robot. Aliyah Silverstein is executive producing, but no host has been named yet. It's not yet clear whether Hacking Robot will be a one-off special, or a weekly series.
It's no surprise USA is doubling down on Mr. Robot. The hacker drama was a huge hit for the network — not just in terms of ratings and awards (though it did just fine on both those fronts), but in establishing the network as a home for edgy, prestigious fare. That trend continues with shows like Colony and tonight's Queen of the South, but Mr. Robot remains the flagship series of the new, darker USA.
Oh, and speaking of darkness: if you had any doubt at all that Mr. Robot would continue its spiral into intrigue, corruption, and general madness next season, the latest trailer should put those fears to rest. We don't have an embeddable video, unfortunately, but you can click over to Buzzfeed to soak it in.