'Ouija: Origin Of Evil' Trailer: Well, It Looks Better Than The First One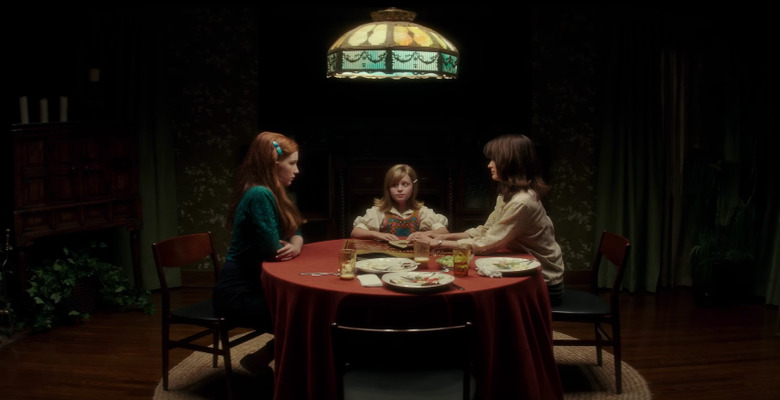 2014's Ouija was a waste of a halfway decent idea, a lazy cash grab cobbled together from bits and pieces of other, better movies. But it cost $5 million to make and grossed over $100 million worldwide, so you know what that means: we're getting a sequel. Or rather, a prequel.
As the title suggests, Ouija: Origin of Evil goes back to earlier times. Specifically the 1960s, even though Ouija boards were actually invented in the late 19th century and evil definitely goes back way further than that. Anyway, the trouble begins when a fake medium (Elizabeth Reaser) and her two daughters (Annalise Basso and Lulu Wilson) accidentally summon a very real and very nasty spirit. Watch the Ouija: Origin of Evil trailer after the jump. 
The Ouija: Origin of Evil trailer seems to give away too many of the scares, and the scares look more goofy than terrifying anyway. But overall, this looks like a surprising step up from the original. Sure, it plays more or less like a Conjuring ripoff, but if they're gonna steal, at least they're stealing from the best. The 1960s setting and séance scam premise add a fun twist to what could've been just another "attractive teens get picked off" movie. And that little girl (Wilson) is legit creepy. The intensity of her gaze is unsettling, even by creepy horror movie kid standards.
However, Ouija: Origin of Evil has the misfortune of arriving in a year when audiences finally seem to have given up on sequels. With a few exceptions (including last weekend's Finding Dory), the box office for sequels this summer have ranged from mildly disappointing to flat-out disastrous. Part of the problem seems to be that a few years ago, the studio began green lighting sequels to any halfway successful movie, without bothering to wonder whether anyone actually wanted, say, a Snow White and the Huntsman sequel. Will Ouija: Origin of Evil fall into that same trap? If you've got one of those boards handy, maybe you could ask it and let us know what it says.
Ouija: Origin of Evil arrives October 21. Mike Flanagan directs.
It was never just a game. Inviting audiences again into the lore of the spirit board, Ouija: Origin of Evil tells a terrifying new tale as the follow-up to 2014's sleeper hit that opened at number one. In 1965 Los Angeles, a widowed mother and her two daughters add a new stunt to bolster their séance scam business and unwittingly invite authentic evil into their home. When the youngest daughter is overtaken by the merciless spirit, this small family confronts unthinkable fears to save her and send her possessor back to the other side.