'Fantastic Beasts And Where To Find Them' Featurette: Meet J.K. Rowling's New Hero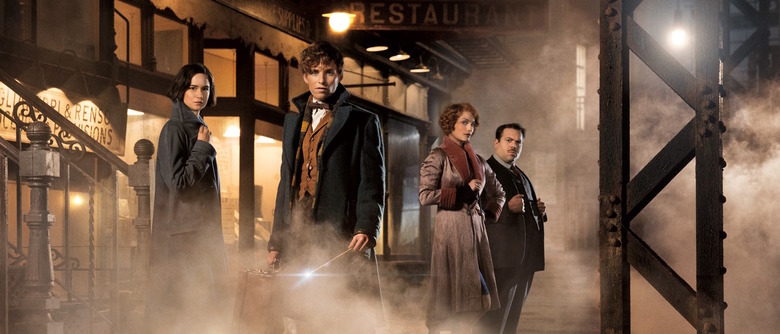 In some ways, the setting of Fantastic Beasts and Where to Find Them should seem familiar. We've already spent eight movies in that universe, after all. But this prequel unfolds 70 years and an ocean away from Harry Potter. And as a new Fantastic Beasts featurette reveals, the American wizarding world of the 1920s is something else entirely.
Oh sure, the wands and the spells and the CG creatures are still there. But when Porpetina (Katherine Waterston) asks Newt (Eddie Redmayne), "Do you know anything about the wizarding community in America?" she could be talking to us. And the answer would be "No, but we can't wait to learn." Feast your eyes on tons of new footage in the latest Fantastic Beasts featurette below. 
While the Harry Potter movies focused mostly on stories and conflicts within the wizarding world, Fantastic Beasts seems to have one foot in our real world. Dan Fogler's character Jacob is the first Muggle (or "No-Maj," as we Americans apparently call them) character in the Harry Potter franchise, and Porpetina and Newt's conversation in the video suggests the American magical community doesn't look too kindly upon non-magical people.
Rowling likens Newt to some of her other famous characters, saying, "My heroes are always people who feel themselves to be set apart, stigmatized, or othered." But Newt feels quite different from the likes of Harry, Ron, and Hermione. Unlike them, he seems a bit awkward, a bit shy, a bit less eager to throw himself into dazzling heroics. In other words, more Hufflepuff than Gryffindor.
Fantastic Beasts and Where to Find Them opens November 18. Colin Farrell, Carmen Ejogo, Ezra Miller, Ron Perlman, Jon Voight, Gemma Chan, Samantha Morton, and Alison Sudol also star. David Yates directed from an original script by J.K. Rowling.
"Fantastic Beasts and Where to Find Them" opens in 1926 as Newt Scamander has just completed a global excursion to find and document an extraordinary array of magical creatures. Arriving in New York for a brief stopover, he might have come and gone without incident... were it not for a No-Maj (American for Muggle) named Jacob, a misplaced magical case, and the escape of some of Newt's fantastic beasts, which could spell trouble for both the wizarding and No-Maj worlds.