'Rogue One: A Star Wars Story': James Earl Jones Returns To Voice Darth Vader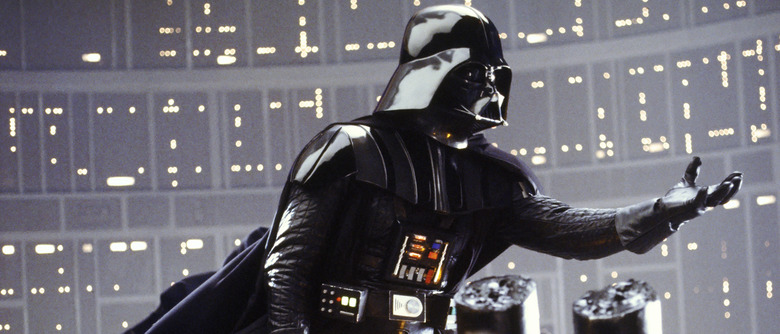 Yesterday we finally got ironclad confirmation that Darth Vader would appear in Rogue One: A Star Wars Story. So today's big news shouldn't surprise you, but it will probably make you happy: Yes, James Earl Jones will return once again to voice the Sith Lord. ("A variety of large-framed performers" will fill the actual suit.) Jones originated the role in the original Star Wars, all the way back in 1977, and recently reprised the character for Disney XD's Star Wars: Rebels. 
Entertainment Weekly has an in-depth report on Darth Vader's role in Rogue One: A Star Wars Story. We'll run down some of the highlights here.
How Much Darth Vader Will We Get?
As great as it'll be to hear Jones' booming voice again, don't expect to get too much of it. "He will be in the movie sparingly," said executive producer Kathleen Kennedy. "But at a key, strategic moment, he's going to loom large."
How Does Darth Vader Fit Into the Empire?
Rogue One is set shortly before the events of A New Hope, and at that point Vader is a little less well known — more of a background enforcer than a hands-on leader. "Within the Empire, there is the culture of knowing of the existence of Darth Vader," said director Gareth Edwards. "There's definitely an underlying feeling that there is a power – a dark power – available to the Empire and that if you overstep your mark, you will suffer the consequences."
Vader exists outside of the hierarchy that binds everyone else in the Empire. "Vader doesn't really play by the rules," said Lucasfilm's Kiri Hart. "He's present in the military structure, but he's not beholden to it. He's not accountable to anybody, really, except Palpatine."
How Does Darth Vader Connect to the Main Villain?
Since they both work for the Empire, Darth Vader and Orson Krennic (the main villain, an Imperial officer played by Ben Mendelsohn) are technically on the same side, but they're not exactly friends. "There is a lot of palace intrigue going on in the Empire, with people conspiring to move up the ranks and sabotaging each other," said producer John Knoll. "There's not a lot of loyalty there." Sounds a bit like Space Game of Thrones, which is a premise I for one can really get behind.
***
For more on Darth Vader – including a truly adorable story from Edwards about meeting Darth Vader as a kid, and then meeting him again as an adult — click the link above.