'Keeping Up With The Joneses' Trailer: Gal Gadot And Jon Hamm Have A Secret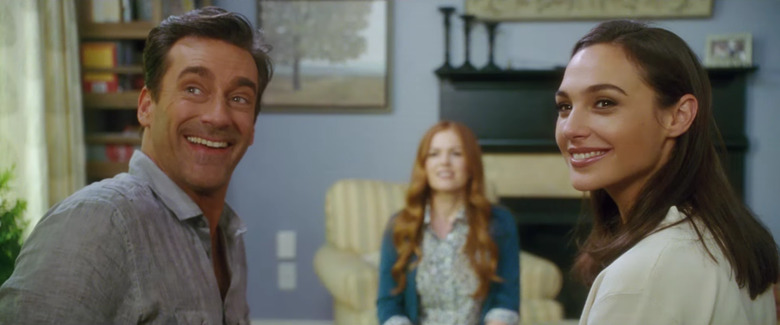 Between the Fast and Furious movies and her ongoing role as Wonder Woman in Warner Bros.' DC universe, Gal Gadot has plenty of action-hero cred. What she hasn't really had a chance to do is show off her comedy chops. But that changes now, thanks to director Greg Mottola (of Superbad and Paul).
Gadot and Jon Hamm star as the Joneses, a glamorous, sophisticated, picture-perfect couple who move into a perfectly ordinary suburb. They dazzle their new neighbors, especially Jeff (Zach Galifianakis) and Karen (Isla Fisher). What Jeff and Karen don't realize right away is that the Joneses are spies. Watch the Keeping Up With the Joneses trailer below. 
The Keeping Up With the Joneses trailer plays a bit like a cross between Date Night (boring married couple go on wild adventure) and Mr. and Mrs. Smith (gorgeous married couple are secretly spies). It's not the funniest thing we've seen, but comedy trailers can be a tough sell even when the film itself is really funny. Mottola's done some really solid work over the years, including Superbad, Adventureland, and Paul, so we'll give him the benefit of the doubt until we see more.
At least that cast is solid. Galifianakis is more believable as a suburban frump than Fisher (who, for all her quirky mannerisms here, is undeniably gorgeous) and Hamm does more of the comedic heavy lifting here than Gadot does. But it should be fun to see all four bounce off of each other in increasingly weird ways. Patton Oswalt, Matt Walsh, Kevin Dunn, and Maribeth Monroe also star.
Keeping Up With the Joneses opens October 21.
An ordinary suburban couple (Zach Galifianakis, Isla Fisher) finds it's not easy keeping up with the Joneses (Jon Hamm, Gal Gadot) – their impossibly gorgeous and ultra-sophisticated new neighbors – especially when they discover that Mr. and Mrs. "Jones" are covert operatives.