'Miss Peregrine's Home For Peculiar Children' Trailer: Like A Tim Burton-Style X-Men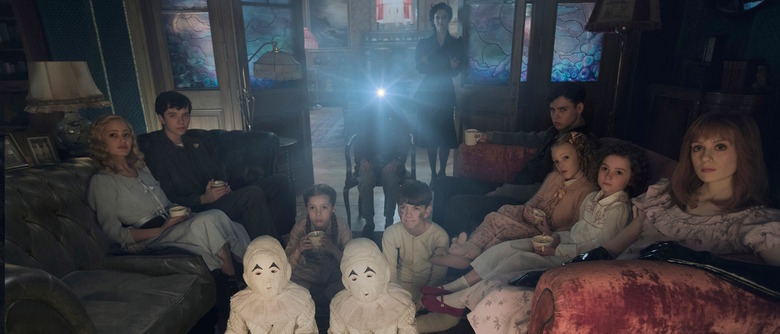 The last time Tim Burton and Eva Green teamed up, we got the fairly awful Dark Shadows adaptation. To be sure, the film's failures weren't Green's fault — indeed, she was one of the few bright spots in it. Still, here's hoping their new collaboration will turn out better.
Based on the bestselling novel by Ransom Riggs, Miss Peregrine's Home for Peculiar Children stars Asa Butterfield as a seemingly ordinary teenager who discovers a hidden refuge for "peculiars" — people with extraordinary powers. As he gets to know the ins and outs of this secret world, he realizes they're all in danger, and that he's the only one who can save them. Watch the new Miss Peregrine's Home for Peculiar Children trailer below. 
I'm not the first to observe that Miss Peregrine's Home for Peculiar Children looks like a Tim Burton-ified X-Men. But it really, really does. There's the secluded mansion, the charismatic headmaster (or headmistress in this case), the awkward and endearing children still coming to grips with their special powers. Maybe that's a good thing, though. The actual X-Men movie we got this year (X-Men: Apocalypse) was a disappointment, a dull kitchen-sink mess of CG destruction and paper-thin characters. Hopefully Miss Peregrine's will prove more satisfying.
Miss Peregrine's Home for Peculiar Children hits theaters September 30. Ella Purnell, Allison Janney, Terence Stamp, Rupert Everett, Judi Dench, and Samuel L. Jackson also star.
From visionary director Tim Burton, and based upon the best-selling novel, comes an unforgettable motion picture experience. When Jake discovers clues to a mystery that spans alternate realities and times, he uncovers a secret refuge known as Miss Peregrine's Home for Peculiar Children. As he learns about the residents and their unusual abilities, Jake realizes that safety is an illusion, and danger lurks in the form of powerful, hidden enemies. Jake must figure out who is real, who can be trusted, and who he really is.