'War On Everyone' Red-Band Trailer: Alexander Skarsgård And Michael Peña Are Up To No Good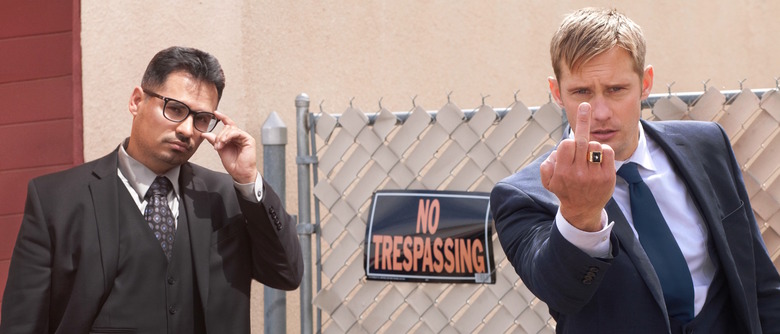 In a few weeks we'll see Alexander Skarsgård as king of the jungle in The Legend of Tarzan, but later this year he'll get in touch with his wild side in an entirely different way. Directed by John Michael McDonagh (The Guard, Calvary), War on Everyone stars Skarsgård and Michael Peña as two very corrupt cops who get in over their heads in New Mexico. If Shane Black's The Nice Guys left you wanting more in the "pitch-black buddy action-comedy" subgenre, War on Everyone should have you covered.
War on Everyone hit Berlin and SXSW earlier this year to strong reviews, and now it's gearing up for a theatrical release in the U.K. (No U.S. release date has been announced yet, alas.) As smuch, the first War on Everyone red-band trailer has just arrived, and you can watch it after the jump. 
U.K. distributor Icon Film unveiled the first War on Everyone red-band trailer. Be warned it's a little NSFW.
The timing seems a little off in this trailer, but War on Everyone's festival reviews have been good enough to earn it some benefit of the doubt. It shouldn't be any surprise that Peña looks hilarious — remember his scene-stealing turn in Ant-Man? — but it's a rare comedic performance from Skarsgård, and he seems to take to it pretty well. It helps that Skarsgård and Peña are surrounded by a very promising supporting cast that includes Tessa Thompson, Theo James, Stephanie Sigman, Caleb Landry Jones, Malcolm Barrett, and Paul Reiser.
Saban Films is releasing War on Everyone in the U.S. No release date has been set, but we can probably expect to see it this fall or so.
War on Everyone follows two corrupt cops in New Mexico who set out to blackmail and frame every criminal unfortunate enough to cross their path. Things take a sinister turn, however, when they try to intimidate someone who is more dangerous than they are. Or is he?