'Star Trek' Fan Film Lawsuit Moving Forward; JJ Abrams' Claims "Are Irrelevant"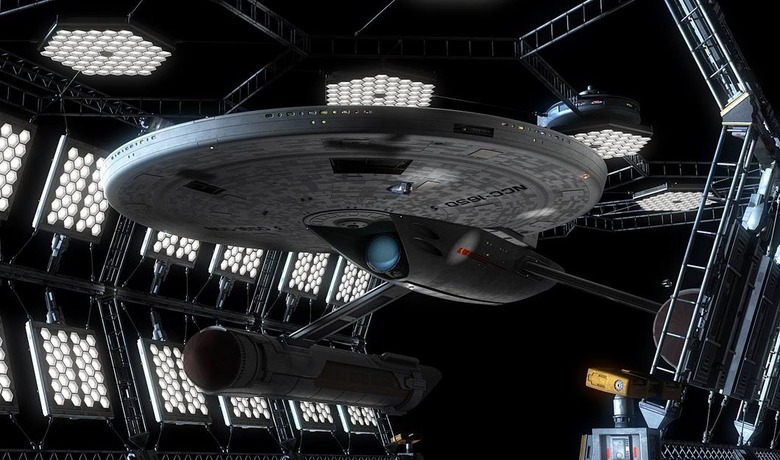 Last year, over $1 million was raised on Kickstarter and Indigogo for Axanar, a Star Trek fan film. The ambition was to make both a short film and a polished, feature-length fan film, but then CBS and Paramount stepped in and filed a lawsuit to prevent Axanar from going into production, claiming the film violates the rights of intellectual property. After a bit of an uproar surrounding the lawsuit, Star Trek Into Darkness director J.J. Abrams said the lawsuit would soon go away. But it hasn't.
Update from Editor Peter Sciretta: This week, paperwork was filed in court by the movie studio to dismiss this claim as an irrelevant third party statement. According to TF, Axanar has requested to obtain any communications the studios had with Justin Lin and J.J. Abrams over the issue but according to their lawyers, CBS and Paramount refused to hand anything over, claiming the information is irrelevant to the case. After the jump, see the e-mail.

In the joint motion, CBS and Paramount reiterate that the directors of the Star Trek films are not authorized to speak on behalf of the movie studio:
"J.J. Abrams is a producer/director of certain Star Trek Copyrighted Works and Justin Lin was the director of Star Trek Beyond. Neither Mr. Abrams nor Mr. Lin is an authorized representative of either of the Plaintiffs." ... "A third party's statement about the merits of this lawsuit has absolutely no bearing on the amount of money Defendants' obtained by their infringing conduct, nor does it bear on any other aspect of damages."
It does seem ridiculous that the studios are refusing to drop the case, even after JJ Abrams made the comments while speaking at the studio-produced internet-broadcast Star Trek Beyond fan event.
Our previous story written by Jack Giroux on June 17th 2016 follows:
Not much has changed since Abrams' comments, though, as Paramount and CBS haven't dropped the lawsuit yet. Below, find out more about the Star Trek fan film lawsuit.
It was reported Abrams and Star Trek Beyond director, Justin Lin, convinced Paramount not to move forward with the lawsuit. A month ago, Abrams said "within a few weeks" it would come to an end:
A few months back there was a fan movie and this lawsuit that happened between the studio and these fans, and Justin was sort of outraged by this as a longtime fan. We started talking about it and realized this wasn't an appropriate way to deal with the fans. The fans of Star Trek are part of this world. We went to the studio and pushed them to stop this lawsuit. Within a few weeks, it'll be announced that this lawsuit is going away.
Following Abrams' comments and a tweeted statement from Paramount, Axanar Productions filed a counterclaim. They asked the judge to declare their fan film — which takes place 21 years prior to "Where No Man Has Gone Before," the first episode of the original Star Trek – did not infringe on Paramount and CBS' copyrights, but their motion to dismiss got rejected.
According to The Hollywood Reporter, this past Wednesday, Paramount and CBS informed a California Federal Judge their lawsuit remains pending. In their original statement, the plaintiffs said:
The Axanar Works infringe Plaintiffs' works by using innumerable copyrighted elements of Star Trek, including its settings, characters, species, and themes.
Axanar producer Alec Peters was originally confident there wouldn't be any legal issues, especially after meeting with CBS. Last year, Peters told The Wrap:
CBS has a long history of accepting fan films. I think Axanar has become so popular that CBS realizes that we're just making their brand that much better.
Peters predicted there'd be a backlash against CBS and Paramount if a lawsuit was filed, and, in that regard, he was proven correct. With Axanar, Peters and all involved wanted to "minimize the intellectual property" they would use. For example, they wouldn't use Star Trek logos and would avoid the word as much as possible. They also wouldn't make a profit from the film, which they thought would be enough to avoid a potential lawsuit.
Paramount and CBS could still be considering dropping the lawsuit after Abrams and Lin urged them to, but at this moment in time, it's still pending. Here's the Axanar team's statement following Abrams' hopeful comments:
While we're grateful to receive the public support of JJ Abrams and Justin Lin, as the lawsuit remains pending, we want to make sure we go through all the proper steps to make sure all matters are settled with CBS and Paramount. Our goal from the beginning of this legal matter has been to address the concerns of the plaintiffs in a way that still allows us to tell the story of AXANAR and meets the expectations of the over 10,000 fans who financially supported our project.
There is still a lot of work to do, but receiving this kind of public support helps immensely.