'Miss Peregrine's Home For Peculiar Children' Character Posters: Meet Tim Burton's Latest Lovable Misfits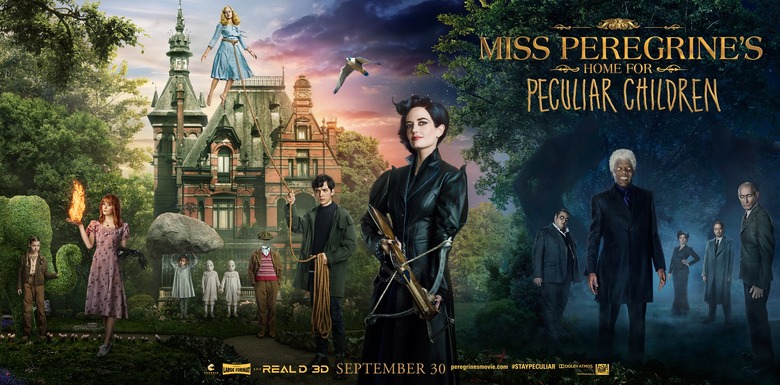 Neither critics nor audiences much cared for X-Men: Apocalypse, the eighth entry in 20th Century Fox's long-running comic book franchise. It drew tepid reviews and flabby box office, and is generally regarded as a disappointment. But maybe the studio's other big superpowered team-up, Miss Peregrine's Home for Peculiar Children, will have better luck.
Directed by Tim Burton and based on the bestselling novel by Ransom Riggs, the story concerns a young man (actual Tim Burton character Asa Butterfield) who stumbles across a hidden home for children with extraordinary abilities.
You know, kind of like the Xavier School for Gifted Youngsters, only more British, more retro, and more Tim Burton-y. Or maybe that makes it more like Harry Potter's Hogwarts? In any case, it's time to meet the residents. A batch of new Miss Peregrine character posters have just been revealed, and you can check them out after the jump. 
Fox shared the Miss Peregrine character posters on Twitter.
In order, that's:
Eva Green as Miss Peregrine, the school headmistress, who can transform into a falcon.
Asa Butterfield as Jacob Portman, the main character, who must protect the Peculiar Children.
Ella Purnell as Emma, who can control air and must be weighted down lest she float away.
Cameron King as Millard, who is invisible (obviously).
Lauren McCrostie as Olive, who can create fire with her hands.
Thomas and Joseph Odwell as the Peculiar Twins, who are telepathic.
Pixie Davies as Bronwyn, who has superhuman strength.
And Samuel L. Jackson as Barron, who is out to get the Peculiars.
Not pictured are Chris O'Dowd, Allison Janney, Terence Stamp, Judi Dench, Kim Dickens, and Rupert Everett.
The material seems like a great fit for Burton, who delights in misunderstood misfits and fantastical, whimsical settings. Miss Peregrine's brings him back to dreamy territory after he went more down-to-earth with his last film Big Eyes, and reunites him with Green, who was the only good thing about Dark Shadows. Come to think of it, she's the only good thing about a lot of stuff she's in, like Sin City: A Dame to Kill For and 300: Rise of an Empire. Let's hope Miss Peregrine is the exception where the movie surrounding her is actually worthy of her performance.
Miss Peregrine's Home for Peculiar Children arrives September 30.
From visionary director Tim Burton, and based upon the best-selling novel, comes an unforgettable motion picture experience. When Jake discovers clues to a mystery that spans alternate realities and times, he uncovers a secret refuge known as Miss Peregrine's Home for Peculiar Children. As he learns about the residents and their unusual abilities, Jake realizes that safety is an illusion, and danger lurks in the form of powerful, hidden enemies. Jake must figure out who is real, who can be trusted, and who he really is.