Trivia: Original 'Finding Nemo' Actor Alexander Gould Has A Voice Cameo In 'Finding Dory'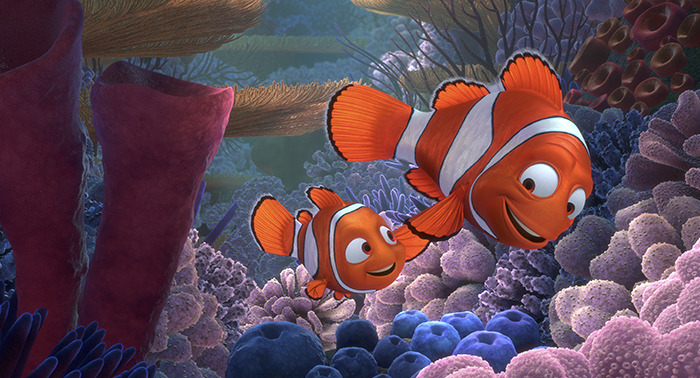 Finding Dory brings back some key members of the Finding Nemo voice cast, including Albert Brooks as Marlin and of course Ellen DeGeneres as Dory. But one who couldn't reprise his role was Alexander Gould, who voiced Nemo in the original film. The reason is obvious: Gould was a small child when he recorded the original Nemo, but nowadays he's a grownup with a grownup's voice, whereas Nemo has only aged a few months since the last time we saw him.
Fortunately, Finding Nemo and Finding Dory director Andrew Stanton found another way to work Gould into the film. After the jump, learn where you can find the Finding Nemo actor in Finding Dory. 
Cinema Blend noticed Gould's name in the credits of Finding Dory, and got the chance to ask Stanton about it. Here's the filmmaker's response:
Alexander Gould — I just spent so much time with Alexander on the first movie. It just felt right to, now that he was 21, to bring him back somewhere as an adult. And so we had him read for a couple roles, but the meatiest one was this truck driver, so that just worked out.
The truck driver Stanton is referring to appears in the third act. To say much more would be to veer into spoiler territory, but Gould's character appears in one of the film's most entertaining sequences. Gould's involvement is a nice bit of trivia for Pixar fans, who love combing these films for Easter eggs, but since there's not a lot of winking and nudging involved, it shouldn't distract from moviegoers who don't know or care about these things. Nemo is voiced by Hayden Rolence in the new film.
Gould has been acting since childhood. He'd already racked up about a dozen credits by the time he starred in Finding Nemo, which opened when he was just nine. In more recent years, he's become known for playing Shane Botwin in Showtime's Weeds.
Finding Dory is in theaters now.