'All Eyez On Me' Teaser: Tupac Shakur Finally Gets His Own Biopic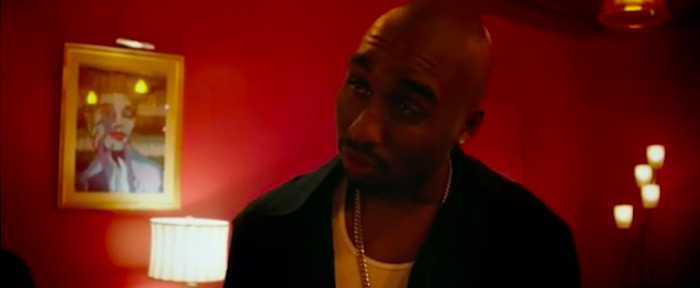 Music biopics seem to be everywhere at the moment. Already this year we've seen Born to Be Blue (Chet Baker), I Saw the Light (Hank Williams), Miles Ahead (Miles Davis), Elvis & Nixon and the controversial Nina (as in Simone). And as of today we're making room for yet another, the long-gestating Tupac Shakur movie All Eyez on Me.
Demetrius Shipp Jr. plays the late rapper, who rose to become one of the most iconic musicians of his generation before getting gunned down at age 25. Benny Boom directed. The first All Eyez on Me trailer has just dropped, on what would have been Shakur's 45th birthday. Watch it below.
Checkout the teaser trailer for All Eyez On Me! June 16th is Tupac's birthday. What's your favorite Tupac song?
The All Eyez on Me teaser trailer shows snippets of his childhood, his run-ins with the law, and his meteoric rise to fame. We get a tiny taste of his music, and hear massive crowds chanting his name, but it's Tupac's mother Afeni Shakur (played by Danai Gurira) who offers most of the narration. "Son, this ain't just about you. Like all black men, you have a bullseye on your back," she warns. She concludes with some timeless advice borrowed from Shakespeare: "To thine own self be true."
The Tupac Shakur biopic had been in the works on and off for years, going through one director after another. It finally got going last year – perhaps partly thanks to the success of Straight Outta Compton, but definitely even more so to the ticking clock that was the real Afeni Shakur's about-to-expire rights deal with Morgan Creek Productions. 
So far the first All Eyez on Me teaser trailer looks interesting, though of course it's far too early to judge how the film as a whole has turned out. Besides Shipp and Gurira, All Eyez on Me also stars Jamal Woolard as Biggie Smalls, Kat Graham as Jada Pinkett, Annie Ilonzeh, Dominic L. Santana, and more. All Eyez on Me opens this fall.