'The Young Pope' Teaser Trailer: Jude Law Calls For Revolution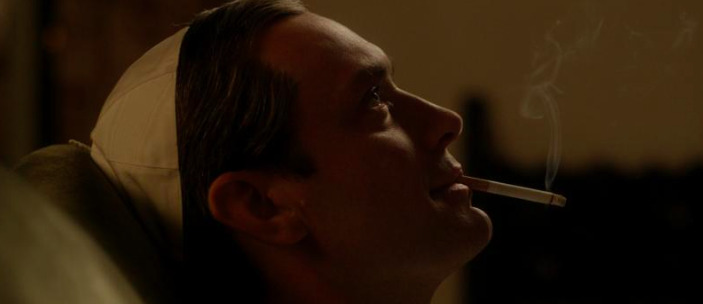 Paolo Sorrentino wrote and directed last year's Youth, a beautiful and moving drama starring Michael Caine and Harvey Keitel. The Great Beauty and This Must Be the Place director's next project is The Young Pope. The miniseries, which will air on HBO, is created and directed by Sorrentino and stars Jude Law.
Below, watch The Young Pope trailer.
In the eight-part miniseries, Law plays the first American Pope, Pope Pius XIII. The actor is joined by Diane Keaton, James Cromwell, Cécile de France, and Scott Shepard, who had a fun supporting role in Steven Spielberg's Bride of Spies.
Here's The Young Pope teaser trailer:
The miniseries is a co-production between Sky Atlantic, Canal, and HBO. Sky will first release the miniseries in a handful of territories overseas; HBO will air the eight episodes soon after that. Starting in October, The Young Pope will air in Italy, UK, Germany, Ireland and Austria. HBO has yet to confirm a premiere date.
Sorrentino directed all eight episodes of The Young Pope. "I really wanted to do a series about the Vatican, and a series in grand style," the Italian-born director told Indiewire last year. "And in order to make the series in English, like I wanted, I had to have an English-speaking Pope. That's how Jude Law's character was born."
Discussing Diane Keaton's role, he added: "We've never seen [a performance like this] from her before, having done more comedy work." The director has a tendency of showing us actors in new lights. Sean Penn's performance in This Must Be The Place is a notable recent example of taking an actor's image and completely turning it on its head.
We'll see if Sorrentino will do the same with Jude Law, an actor that's expressed an enormous amount of range over his career. From Dom Hemingway to Closer to Road to Perdition to Anna Karenina to plenty of other distinct roles, he's given a large variety of performances. Eight hours of Jude Law — and Diane Keaton and James Cromwell — in an HBO miniseries directed by Sorrentino is enticing.
Here's the official synopsis for The Young Pope:
From Paolo Sorrentino, director of the Academy Award®-winning 'The Great Beauty,' 'The Young Pope' tells the controversial story of the beginning of Pius XIII's pontificate. The eight-episode series stars Jude Law as the complex and conflicted Pius XIII, the first American pope. The cast includes Diane Keaton as Sister Mary, an American nun living in Vatican City, as well as Silvio Orlando, Scott Shepherd, Cécile de France, Javier Cámara, Ludivine Sagnier, Toni Bertorelli and James Cromwell.