A 'Sicario' Trilogy Is Already Being Discussed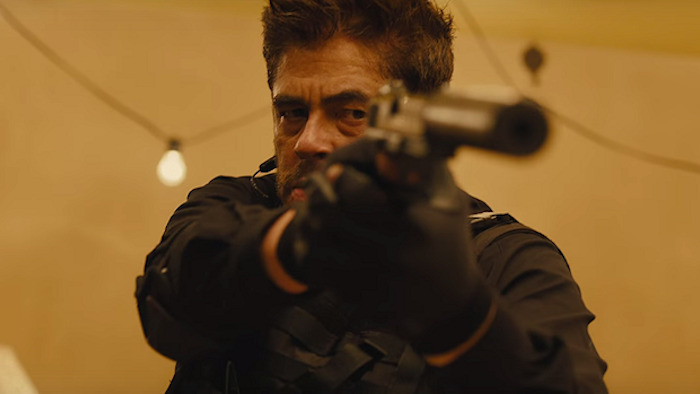 Almost two weeks ago, it was reported Stefano Sollima (Gomorrah) was attached to direct the sequel to Sicario, titled Soldado (translation: soldier). Before Soldado even begins filming, Sollima and all involved are already considering a Sicario 3, which, if it happens, would round out a trilogy of standalone films.
Below, learn more about Soldado and Sicario 3.
Written by the first film's screenwriter, Taylor Sheridan, Soldado revolves around Alejandro Gillick (Benicio Del Toro) and Matt Graver (Josh Brolin). Emily Blunt isn't returning for the sequel, even though the producers said all three leads were expected to return for the sequel; it's speculated a scheduling conflict is why she won't appear in the film. Perhaps Blunt's character, Kate Macy, could be brought back for the third Sicario film.
In an interview with The Independent, Sollima discussed the plan to make another film set in this world:
The idea is to make three anthology movies with some of the core actors and [set] in the same world. It's not a real sequel. It's absolutely a standalone movie — a completely different story with just two of the characters that you met in Sicario. The reason that I love [Soldado] is because it's not exactly a sequel; it's something you can catch and enjoy even if you haven't watched the first one.
A different, standalone story with two of the main characters returning does sound like a "real sequel," but since Sicario's protagonist isn't returning, that does make Soldado a less conventional sequel. Sollima added that Alejandro and Matt are now "absolutely the main characters" of this potential trilogy.
Sollima went on to explain how Soldado will compare to Denis Villeneuve's original film:
I loved Sicario. I feel the movie was quite similar to my approach so, to me, I'm just shooting another movie. Soldado will be much more cinematic than Sicario was; it's got an incredible amount of huge action sequences in there. It will be a different journey in the same world. Even the theme is different – it's not drug dealing, it's more on immigration.
Hopefully more than just "huge action sequences" will make Soldado more cinematic than Sicario, which was shot by cinematographer extraordinaire Roger Deakins. Sollima likely didn't mean that as a criticism of Sicario, but his quote is perplexing. More action may make the sequel bigger, but that doesn't mean it'll automatically make for a more cinematic experience. At least he's taking the sequel — and possible trilogy — in a new direction, though, by tackling a new theme.