Steven Spielberg Reunites With 'Bridge Of Spies' Team For Walter Cronkite Movie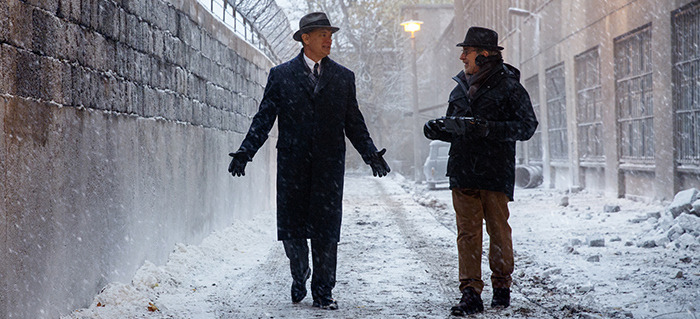 Bridge of Spies probably won't go down as one of Steven Spielberg's most iconic films, but it was still a solid entry in his body of work. Critics embraced it, the Academy celebrated it, and audiences turned out in droves to go see it. And because Spielberg knows a winning ticket when he sees one, he'll keep the good times going with a new project from the Bridge of Spies team.
Spielberg is set to reunite with Bridge of Spies writer Matt Charman and producer Marc Platt for a historical drama about news anchor Walter Cronkite, and the role he played in shaping public sentiment about the Vietnam War. 
According to The Hollywood Reporter, Charman has sold his untitled pitch to Spielberg's Amblin Partners. He'll write the script, and all three are currently attached to produce. Cronkite already had a reputation as America's most trusted news anchor when, in 1968, he traveled to Vietnam to cover the aftermath of the Tet Offensive. When he returned, he filed reports denouncing America's involvement in the conflict. Rumor has it then-president Lyndon B. Johnson remarked, "I've I've lost Cronkite, I've lost Middle America."
The drama sounds like a great fit for Spielberg, who would have been in his early 20s around the time these events unfolded. The material is rich with historical importance and weighty themes and populated by likable heroes, much like his recent films Bridge of Spies, Lincoln, and War Horse. At the same time, the Walter Cronkite movie represents some unfamiliar territory for Spielberg, as he has rarely dealt with the Vietnam War in his work.
It's unclear at this time whether Spielberg also plans to direct. If so, it may be a while before he even has room for this one. His latest directorial effort The BFG hits theaters this summer, and he has Ready Player One due out in 2018 and Indiana Jones due out in 2019. In addition, he's also hoping to helm The Kidnapping of Edgardo Mortara in the not-too-distant future. The BFG, Ready Player One, and The Kidnapping of Edgardo Mortara all reunite him with Mark Rylance, who won a Best Supporting Actor Oscar for Bridge of Spies.