'Beverly Hills Cop 4' Moves Forward With New Directors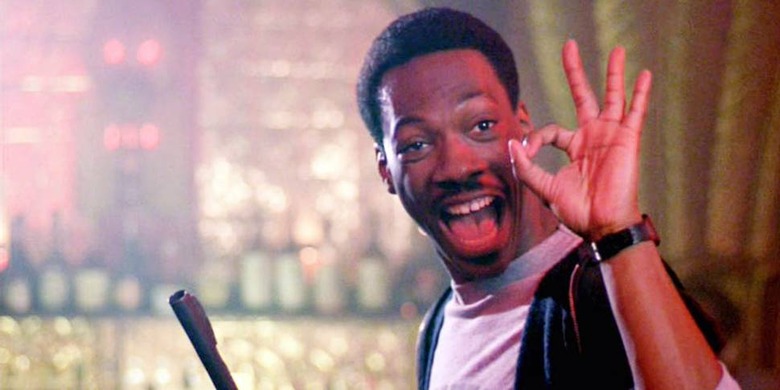 The on-again, off-again development process on Beverly Hills Cop 4 is officially on again. Paramount has tapped Belgian filmmakers Adil El Arbi and Bilall Fallah to direct the next installment of the action-comedy series, which will bring Eddie Murphy's Axel Foley back to his Detroit roots. 
Deadline broke news of the new Beverly Hills Cop 4 directors. El Arbi and Fallah are best known for their TIFF drama Black, a Romeo and Juliet tale about a teenage girl who falls for a member of a rival gang in Brussels. The film hasn't hit U.S. theaters yet (though it did play at SXSW this spring), but has earned strong reviews on the festival circuit thanks to its gritty sensibility and stylish flair.
Murphy and producer Jerry Bruckheimer reportedly adored Black and were pleased to learn that El Arbi and Fallah were fans of Beverly Hills Cop. One thing led to another, and now the duo are set to direct. Beverly Hills Cop 4 represents a big leap forward for the directors in terms of budget and notoriety. Paramount's hope is that they'll inject some "youthful energy" into the 32-year-old franchise, which last released a film 22 years ago.
Paramount has been trying to revive its Beverly Hills Cop series for a long time. After years of unsuccessful attempts to make a Beverly Hills Cop 4, the property was reworked as a TV series for CBS. When the pilot failed to get picked up, Paramount decided to try again for a Beverly Hills Cop 4 movie. In 2014 the studio set a spring 2016 release date for Beverly Hills Cop 4, but then quietly yanked it back off the calendar when progress proved slow.
El Arbi and Fallah will direct from a script by Josh Appelbaum and Andre Nemec, whose credits include Teenage Mutant Ninja Turtles: Out of the Shadows and Mission: Impossible – Ghost Protocol. Beverly Hills Cop 4, which Deadline describes as "gritty with the trademark irreverent humor" of the early installments, will send Axel Foley back to Detroit. No new release date has been announced.