The Office Spin-Off Coming From Netflix And Ricky Gervais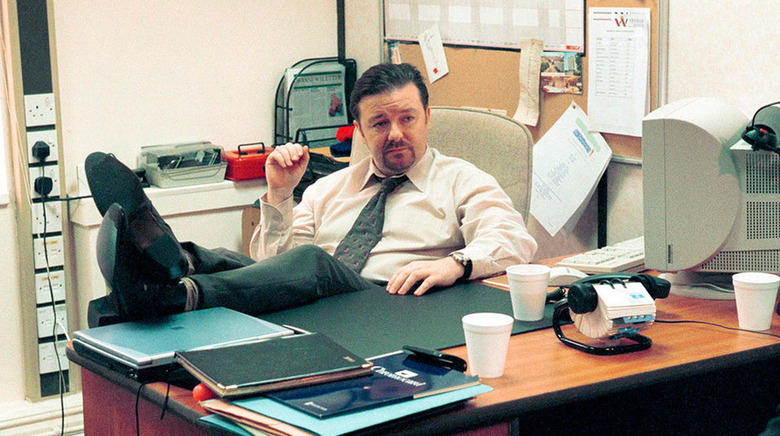 Ricky Gervais' relationship with Netflix continues. The streaming service recently released his last film, Special Correspondance, and they're also the home to the Gervais-led series, Derek. Their latest venture together is The Office spinoff, which Netflix has just purchased and will distribute in select territories. The faux-rockumentary, David Brent: Life on the Road, follows the former Wernham Hogg Paper employee, David Brent, as he attempts to fulfill his dream of becoming a famous rockstar.
Below, learn more about The Office spinoff.
The film, which Gervais wrote and direct, takes place years after the events of the BBC's The Office, which ran from 2001-2003. Gervais has called the feature "almost a musical." By day, Brent sells cleaning products; by night, he pursues rock stardom. His band is called "Foregone Conclusion."
During the Opie With Jim Norton Show, Gervais revealed Netflix has purchased David Brent: Life on the Road (via Variety). The Office star and co-creator is pleased he'll have "20 million people see it than half a million people see it in cinemas."
As for the plot, here's what Gervais had to say about Life on the Road:
[H]e hasn't let go of this dream of being a rock star and he's got a lot of songs together and he's got a young band together that he's paying through the nose for and they're just sort of ripping him off. They're sort of session musicians so he's losing money. He has to cash in a pension, he does a little tour he wants the record companies to come along too.
Obviously he thinks it's like Scorsese following the Rolling Stones around, this documentary team, but it's really sort of a Where Are They Now documentary and it's even sadder and tragic... I'm trying to do like Anvil did for real. It was sort of sweet and tragic... He's doing songs, it's almost a musical, really.
Brent's sad but funny predicament sounds about right. The film will show more of the character's "private life than The Office ever did before," Gervais added. If you want to get a sense of Brent's onstage charisma and talent as a musician, check out a few episodes of "Learn Guitar With David."
Two years ago, Gervais said Brent's story would have "a theatrical release around the world because The Office, the original one, played in about 100 countries." Considering the work he's done with Netflix since then, it makes sense he's now excited about the prospect of his film reaching a larger audience outside of theaters, although a theatrical release is still the plan for some territories.
David Brent: Life on the Road opens in the U.K. August 19th. No domestic release date is currently scheduled.