HBO's 'Curb Your Enthusiasm' Officially Set To Return For Season 9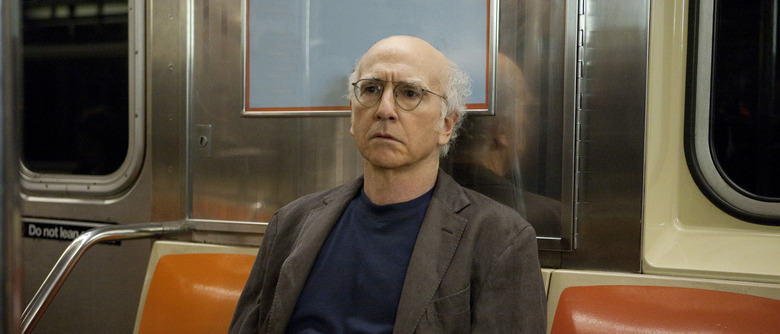 HBO has some pretty, pretty, pretty good news for us today. The network has officially announced a ninth season of Curb Your Enthusiasm, nearly five years after it last aired an episode. The news doesn't come entirely as a surprise — it was just a few days ago that actor J.B. Smoove was telling press Larry David wanted to bring back the show — but now those plans look much firmer. 
David explained his decision to return as his alter ego in typically David-ian fashion. "In the immortal words of Julius Caesar, 'I left, I did nothing, I returned,'" he said in a statement. Said HBO programming president Casey Bloys, who took over the job from Michael Lombardo just a few weeks ago, "We're thrilled that Larry has decided to do a new season of Curb and can't wait to see what he has planned."
HBO has not said exactly when Curb Your Enthusiasm season 9 will air, or how many episodes it'll have. The comedy has always operated on a somewhat irregular schedule, airing eight seasons of 10 episodes each over 11 years. But the five- or six-year gap between seasons 8 and 9 are the longest hiatus yet. David has gone back and forth over the years on whether he might return for more Curb, but last week Smoove revealed David had already asked him if he'd be available to return for season 9.
Since Curb Your Enthusiasm last aired in 2011, David has co-starred in The Three Stooges and starred in the HBO movie Clear History. He's also done several guest appearances on Saturday Night Live over the past few months, usually playing Bernie Sanders. David can joke about how he's done "nothing," but he's been plenty busy.
Curb Your Enthusiasm's return doesn't quite fit into the recent trend of show revivals, since it was never permanently cancelled to begin with. If David's finally agreed to return after all this time, we're guessing it's because he has a good reason.