'Ben-Hur' Trailer & Featurette: Jack Huston And Toby Kebbell Face Off In The Arena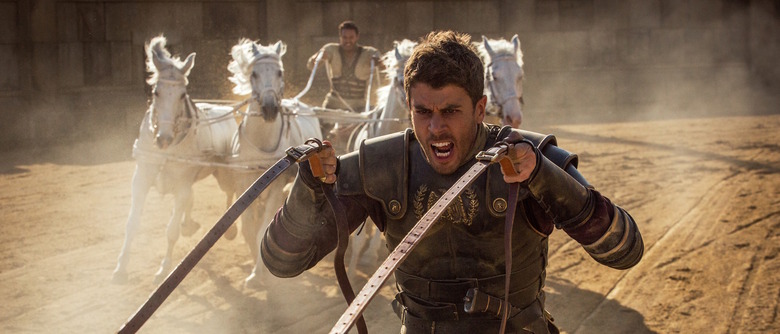 Some of Toby Kebbell's most prominent roles are the ones where he's hidden behind CG and mo-cap magic: Koba in Dawn of the Planet of the Apes, Dr. Doom in Fantastic Four, and most recently Durotan in Warcraft. But he'll show his face for real later this summer in Timur Bekmambetov's re-adaptation of Ben-Hur, where he plays the duplicitous Messala to Jack Huston's Judah Ben-Hur.
If you've seen the William Wyler classic, you already know the story: Ben-Hur is a Jewish prince who's forced into slavery thanks to the betrayal of his best friend, Roman officer Messala. Years later, Ben-Hur returns seeking revenge via chariot race. A new Ben-Hur trailer plays up the tragedy of Ben-Hur's ordeal, while a new Ben-Hur featurette reveals the practical stunt work from the climactic chariot race sequence. Watch 'em both below. 
The music you're hearing is "Ceasefire" by Christian pop duo For King & Country. The new trailer leans into the material's religious roots, opening with a Bible verse and emphasizing the influence of Jesus (Rodrigo Santoro) on Ben-Hur's life. At the same time, though, the Christian angle isn't so overplayed as to turn off secular audiences. The focus of this film is still Judah Ben-Hur's journey, which is easy enough to understand even if you've never been to church a day in your life.
And you certainly don't need to subscribe to any particular religious belief system to enjoy this featurette on the chariot race sequence. You might expect that such a dangerous-looking scene would be constructed in CG, but as the video shows, it was mostly done with practical stunts. Huston and Kebbell really risked their necks for our amusement, so the least we can do is show up to see the results. Or so Paramount is hoping, anyway.
Ben-Hur arrives in theaters on August 19.
BEN-HUR is the epic story of Judah Ben-Hur (Jack Huston), a prince falsely accused of treason by his adopted brother Messala (Toby Kebbell), an officer in the Roman army. Stripped of his title, separated from his family and the woman he loves (Nazanin Boniadi), Judah is forced into slavery. After years at sea, Judah returns to his homeland to seek revenge, but finds redemption. Based on Lew Wallace's timeless novel, Ben-Hur: A Tale of the Christ. Also starring Morgan Freeman and Rodrigo Santoro.