'Pete's Dragon' Trailer: The Best Kept Secret In The Pacific Northwest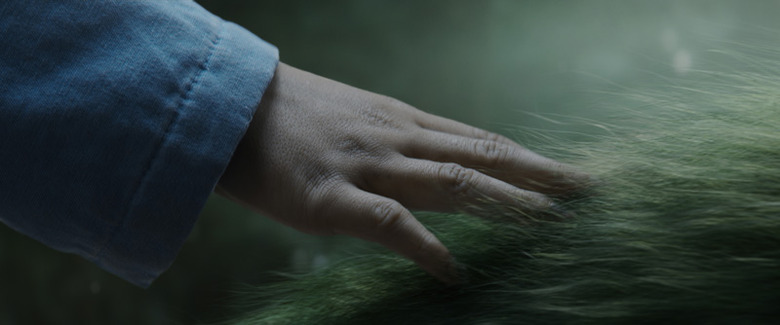 Pete's Dragon is very, very loosely based on the 1977 Disney film of the same name, a movie that, as charming as it often is, isn't exactly sacrilegious to remake. Handling the newest Disney modernization is director David Lowery, whose last feature film was Ain't Them Bodies Saints. Going from a sparse, tone poem to a big Disney remake is quite a jump for a filmmaker to make, but the trailer for Pete's Dragon suggests it's a transition Lowery had little trouble making.
Below, watch the latest Pete's Dragon trailer.
Lowery's Pete's Dragon isn't set too long after the original came out. The year the story takes place is unspecified, but the film is set around the late '70s or early '80s. Lowery wanted Pete's Dragon to have a timeless quality, which we can get a sense of in the trailer. Disney's latest live-action remake stars Oakes Fegley, Bryce Dallas Howard, Robert Redford, Oona Laurence, Wes Bently, and Karl Urban.
Here's the Pete's Dragon trailer:
Lowery claims this is "the best representation of what audiences will experience this summer," and the trailer does capture the tone of the footage I saw last week. The impression I got was that Pete's Dragon is far more of a drama than a full-on adventure movie, but it's definitely not without its adventurous moments. A scene featuring Pete and Elliot flying plays out exactly how a kid would dream of flying around on a dragon. It's a beautiful and thrilling moment, seeing Pete and Elliot having the time of their lives as Lowery's camera gracefully tracks them gliding above the misty Pacific Northwest.
Here's the official synopsis for Pete's Dragon:
For years, old wood carver Mr. Meacham (Robert Redford) has delighted local children with his tales of the fierce dragon that resides deep in the woods of the Pacific Northwest. To his daughter, Grace (Bryce Dallas Howard), who works as a forest ranger, these stories are little more than tall tales...until she meets Pete (Oakes Fegley). Pete is a mysterious 10-year-old with no family and no home who claims to live in the woods with a giant, green dragon named Elliott. And from Pete's descriptions, Elliott seems remarkably similar to the dragon from Mr. Meacham's stories. With the help of Natalie (Oona Laurence), an 11-year-old girl whose father Jack (Wes Bentley) owns the local lumber mill, Grace sets out to determine where Pete came from, where he belongs, and the truth about this dragon.
Pete's Dragon opens in theaters August 12th.