'Terriers' Producers Want 'Terriers' Movie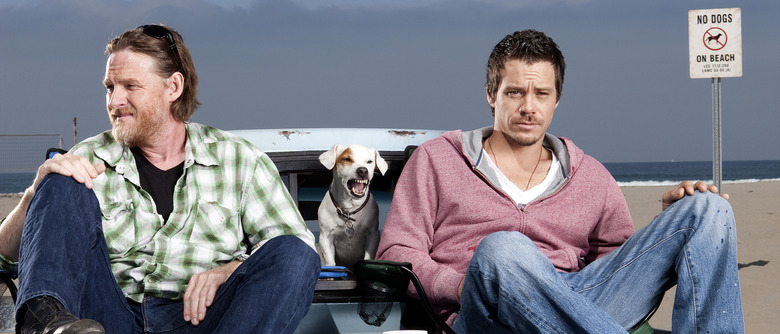 Beloved shows never really die in this day and age. They just enter a limbo state, leaving showrunners and stars to spend the rest of their lives fielding questions from fans about possible revivals and/or movie sequels. A lucky few even get resurrected, like Arrested Development or Gilmore Girls or Full House, keeping hope alive for fans of the rest.
At a recent event, producers Ted Griffin and Shawn Ryan addressed the question of reviving Terriers, their wonderful but tragically short-lived drama starring Donal Logue and Michael Raymond-James. The short answer is that they've talked about it — but the long answer is that they've have several hoops to jump through first. 
Part noir mystery, part buddy comedy, part antihero drama, Terriers starred Logue as ex-cop and recovering alcoholic Hank Dolworth, and Raymond-James as his friend and partner, former career criminal Britt Pollack. (Despite the title, the series had nothing to do with actual terriers.) The show aired for just a single 13-episode season in 2010, but despite its poor ratings at the time Terriers has gained a cult following since its cancellation.
During an ATX Television Festival panel, Griffin admitted that they "may have investigated" a Terriers revival: "I think we would like to make a movie. And I think we have the idea sort of what we'd want to do, we just need to clear it with Fox." Ryan added, "There's a couple of things we'd have to clear. Fox has the rights. This is the kind of show where I feel like if Donal and Mikey were up to it and Ted had the story he wanted to tell this is the world we would definitely revisit, given the opportunity."
For their part, Logue and Raymond-James acknowledge they've thought about where their characters would have ended up. "Michael and I talk about it all the time," said Logue. Raymond-James, who called into the panel, joked, "I'm Skyping you guys from some medium-security correctional facility that Britt's been in these last six years."
The team behind Terriers have spoken on and off over the years about their hopes for a Terriers return in some form or fashion. Ryan has floated the idea of producing a Terriers movie with Kickstarter funds, and in 2013 Logue told fans there was a "realistic chance" of Terriers coming back. As of now, though, it doesn't sound like they've made much progress. If you're a Terriers fan, by all means, keep your fingers crossed — crazier things have happened. But maybe don't hold your breath.
[Source: Deadline]