Marvel's 'Scarlet', From Jessica Jones Co-Creator, Coming To Cinemax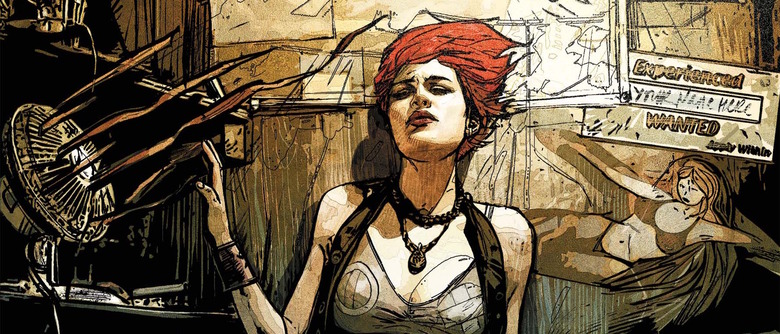 Brian Michael Bendis, co-creator of the books that inspired Netflix's Jessica Jones and PlayStation's Powers, has another comic heading to the small screen. Cinemax has put into development Scarlet, an adaptation of his Icon Comics series about a young woman who sparks another American revolution in the modern day.
Deadline reported on the Scarlet TV series after Bendis let the cat out of the bag at Austion's ATX Television Festival.
Speaking about his ongoing comics work, Bendis said "I do a book called Scarlet which is soon to be announced also in our universe of television. Not announced yet, but HBO." Bendis was careful to add that the project is "at the earliest stage," but that "the team around it...will be announced as soon as all are on the same page."
Bendis' comment initially had some fans assuming Scarlet would be an HBO series, but Deadline has since clarified that Scarlet is set up at HBO's sister network Cinemax. Cinemax recently premiered another comic book-based series, Robert Kirkman's Outcast, to strong reviews.
Written by Bendis and drawn by Alex Maleev, Scarlet launched in 2010 under Marvel's creator-owned imprint Icon Comics. The book follows a Portland woman named Scarlet Rue who rebels against a corrupt society and ends up starting an all-out revolution. "Scarlet is a list of things you can't get made," said Bendis at ATX. "Here's a female lead who's killing cops because her world is broken."
Scarlet has been likened in tone to the Punisher, and she often breaks the fourth wall a la Deadpool. There's a timeliness to the premise, as Scarlet is initially inspired by an act of police brutality and the corrupt government actions that followed.
Bendis has worked extensively with Marvel Comics, launching Ultimate Spider-Man (and eventually co-creating Miles Morales) and New Avengers and writing for Spider-Woman, Daredevil, and more. His other work includes Goldfish, Jinx, and Sam and Twitch.