Angelina Jolie Could Board Kenneth Branagh's 'Murder On The Orient Express' Remake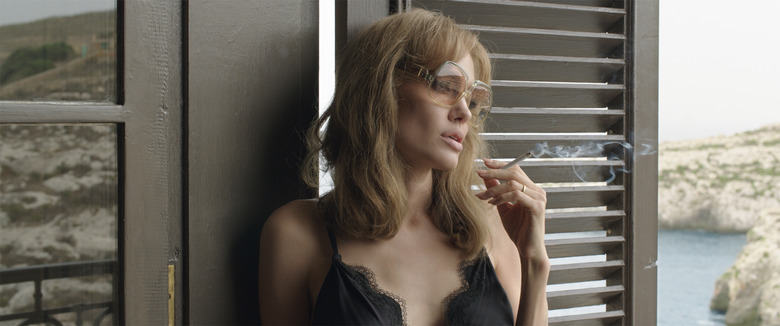 Fox's Murder on the Orient Express remake has a long way to go if it hopes to catch up to the star power of Sidney Lumet's 1974 version, which featured Albert Finney, Lauren Bacall, Ingrid Bergman, Jacqueline Bisset, Sean Connery, Anthony Perkins, and Vanessa Redgrave. But getting Angelina Jolie on board is probably a good place to start. The actress has reportedly entered early talks to join Kenneth Branagh, who will both star in and direct the mystery. 
According to The Daily Mail (via Variety), Jolie is circling the role of widowed socialite Harriet Hubbard, portrayed by Bacall in the earlier film. As previously reported, Branagh will play detective Hercule Poirot. Based on the 1934 novel by Agatha Christie, Murder on the Orient Express unfolds on a train that gets caught in a heavy snowstorm overnight. The next morning, the passengers discover a businessman has been murdered. Evidence suggests the killer is still on board, and as Poirot gets to work on the case, several of the passengers fall under suspicion.
Although Lumet's is the most famous adaptation of Christie's story, it's one of many. More recent takes include a 2001 made-for-TV movie starring Alfred Molina, and a 2010 episode of Agatha Christie's Poirot. This new version has been in development for a few years, but really began picking up speed last year when Michael Green (Blade Runner 2) was hired to write the screenplay. Branagh will direct with Ridley Scott, Simon Kinberg, Mark Gordon, Michael Schaefer, and Aditya Sood. We had heard Fox wanted a big-name cast for this one, and Jolie definitely fits the bill.
Jolie has acted only sporadically over the past few years, focusing most of her attention on her directing career. She had the biggest box office hit of her career in the Disney fantasy Maleficent and returned to the screen for the romantic drama By the Sea, which she also directed. She also lent her voice to Kung Fu Panda 3, which opened earlier this year. Jolie is still in high demand as an actress, thanks to her talent and her A-list profile — a few months ago, we heard she was being courted for The Bride of Frankenstein and Wanted 2 — but she can afford to be picky.
Shooting on Murder on the Orient Express is expected to begin in London this November. The production will also swing by Malta. Fox has the film scheduled for release on November 22, 2017.