'Independence Day: Resurgence': Jeff Goldblum Helps David Levinson Debunk A Crazy Conspiracy Theory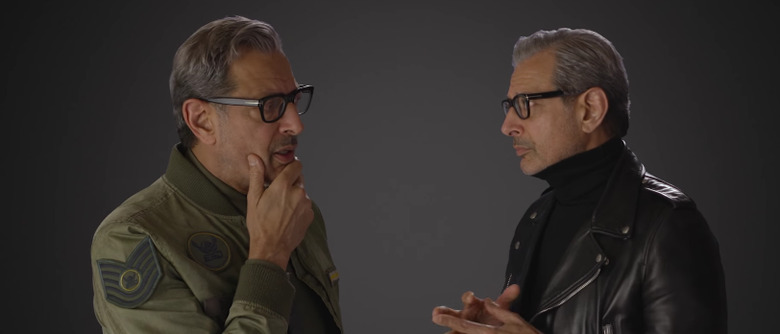 Any major, world-changing event is going to inspire a few bizarre conspiracy theories, and in a new viral video for Independence Day: Resurgence, Earth Space Defense head David Levinson takes a few minutes to debunk one of the craziest rumors about the War of 1996. You know, the one that he and actor Jeff Goldblum are the same person.
Sure, Levinson will admit to a "fleeting" resemblance, and yes, they happen to wear the same glasses. But Levinson barely even knows who Goldblum is — is he the guy from 9 to 5, maybe? And he certainly couldn't tell you whether it's pronounced "gold-bluhm" or "gold-bloom." In any case, this ESD video of Goldblum and Levinson standing side by side should put to rest any more ridiculous speculation that Levinson and Goldblum are the same person. Watch the very charming Independence Day Resurgence Jeff Goldblum David Levinson viral video below.
Today Earth Space Defense director David Levinson is finally debunking a long-standing conspiracy theory that has persisted since the War of 1996. In this video – which provides irrefutable proof – he and famous Hollywood actor Jeff Goldblum prove once and for all that they are not the same person – despite their uncanny resemblance. Learn the truth now.
Okay, let's think this over. If Jeff Goldblum exists separately from David Levinson in the Independence Day: Resurgence universe, does that mean Bill Pullman and Liam Hemsworth also exist in that universe? Does Will Smith? If so, is it safe to assume their Will Smith is still alive? And if that's the case, is it really weird and bittersweet for Jasmine and Dylan to see films like Concussion and Suicide Squad and see a movie star who's the spitting image of their late family member?
And if none of that is true — if Jeff Goldblum is the only actor who exists in both worlds — why Jeff Goldblum? Is he some kind of key to a portal between their universe and ours? Does that portal have anything to do with the alien invasion? Is Jeff Goldblum to blame for the War of 1996? I don't know, guys, I'm starting to think this conspiracy theory debunking video is actually raising more questions than it's answering.
Independence Day: Resurgence land in theaters on June 24.
We always knew they were coming back. After Independence Day redefined the event movie genre, the next epic chapter delivers global spectacle on an unimaginable scale. Using recovered alien technology, the nations of Earth have collaborated on an immense defense program to protect the planet. But nothing can prepare us for the aliens' advanced and unprecedented force. Only the ingenuity of a few brave men and women can bring our world back from the brink of extinction.