Jennifer Lawrence And Adam McKay Teaming Up For Biotech Billionaire Biopic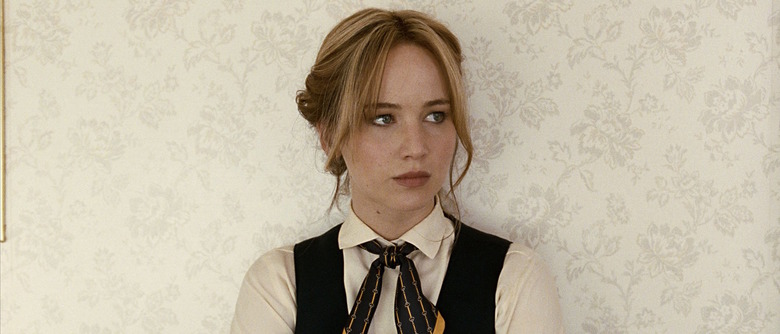 Two recent Oscar darlings are looking to join forces. Jennifer Lawrence is attached to star in a new film directed by The Big Short's Adam McKay, about Theranos co-founder Elizabeth Holmes. Come to think of it, the project sounds a bit like a mash-up of Lawrence's Joy and McKay's The Big Short: Holmes skyrocketed to prominence as one of the youngest self-made billionaires ever, only to fall from grace after her biotech company came under investigation.
Variety reports Lawrence and McKay will produce together. McKay will also write the script. Lawrence and McKay are expected to begin shopping the project to studios very soon. The project shouldn't have much trouble finding a home, as both are hot commodities at the moment. Considering the pedigree, we wouldn't be surprised to see this one eventually positioned as a possible Oscar contender.
Holmes founded Theranos in 2003, when she was just 19, with the aim of revolutionizing blood testing. She quickly found success — by 2014, the company was valued at $9 billion and in 2015 Forbes declared Theranos the youngest female self-made billionaire. But the company's worth plummeted as it became mired in controversy. There were allegations that Theranos' blood-testing devices were inaccurate, sparking an investigation by the FDA and other federal agencies. This month, Forbes lowered their estimate of Holmes' net worth to nothing.
The story seems to be right in McKay's wheelhouse. Though he first became known for comedies like Anchorman and Step Brothers, last year's The Big Short proved he was capable of tackling weighty, controversial material with style. The film netted McKay an Oscar win for Best Adapted Screenplay, and nominations for Best Director and Best Picture. And Holmes sounds not very different from Lawrence's last Oscar-nominated role in Joy, where she played a self-made millionaire. At least up until the part where Holmes loses it all, anyway.
Lawrence can currently be seen sleepwalking through X-Men: Apocalypse, and she'll next appear in the sci-fi romance Passengers with Chris Pratt. McKay just got a pilot order from HBO for Succession, a family drama about a global media empire. He was recently linked to the supervillain project Irredeemable, and is expected to help out with the script for Ant-Man and the Wasp.