Which Netflix Shows Are Their Most Binge-Watched?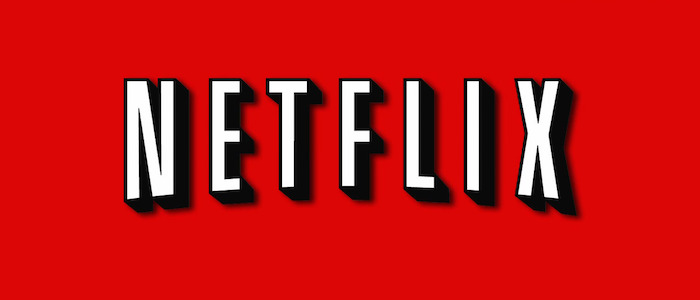 Netflix doesn't release its viewership numbers. In fact, even people that work on the streaming service's shows, like Kevin Spacey, don't know exactly how many people have watched their work. Since Netflix doesn't sell advertisements, they don't feel obligated to release those figures. If they're happy with the numbers — as they were with their most-watched movie ever, The Ridiculous Six – they don't feel the need to boast about them. If they're not pleased with viewership, then very few people outside of Netflix will ever know about it. Unless a show gets the ax, of course.
The streaming service hasn't come out and said how many viewers their original content attracts, but the company has released the Netflix Binge Scale, revealing which shows are the most devoured (Sense8, Grace & Frankie) or savored (Daredevil, Narcos) by their customers.
Netflix didn't conduct this experiment only for their own titles. A part of the devoured list is, to no one's surprise, AMC's Breaking Bad. On average, seasons of the "devoured" shows were completed in four days and, during each sitting, watched for around two hours and 30 minutes.
The Devoured (via Variety and Netflix):
The 100, American Horror Story, Sense8, Orphan Black, The Walking Dead, The Fall, Orange Is the New Black, Nurse Jackie, Hemlock Grove, Marco Polo, Breaking Bad, and Grace & Frankie.
No real surprises on this list, except for perhaps Marco Polo – a show that doesn't appear to generate as much buzz and as discussion as some of Netflix's other original programs.
The Savored:
House of Cards, Bloodline, Peaky Blinders, Narcos, Daredevil, Mad Men, BoJack Horseman, Love, and Unbreakable Kimmy Schmidt.
These shows were generally completed in six days and were watched for one hour and 45 minutes during each sitting. Some of these titles, especially the most recent season of Bloodline, do benefit from some breathing room. It's odd to see Love on this list, not only because season one is a breeze to go through, but also because it's only five hours long. Maybe because some of these comedy series aren't as plot-driven as the devoured titles that some viewers don't feel the immediate urge to see what happens in the next episode.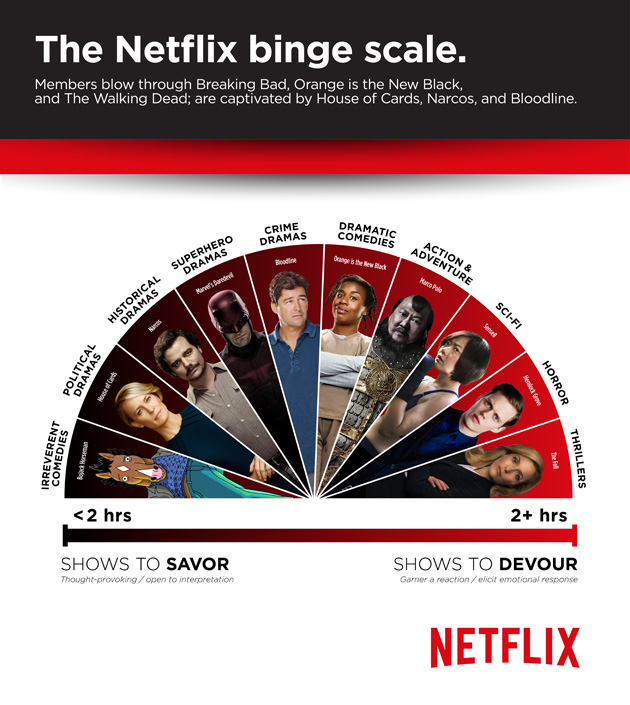 This scale covers 190 countries going from October 2015 to May 2016. The streaming service checked the binge-watching habits for over 100 different shows, and they discovered that, on average, their customers watch titles for two hours and 10 minutes per sitting. The average time for a viewer to complete a series is six days.