Is That A Lesbian Couple In 'Finding Dory'? Filmmakers Will Neither Confirm Nor Deny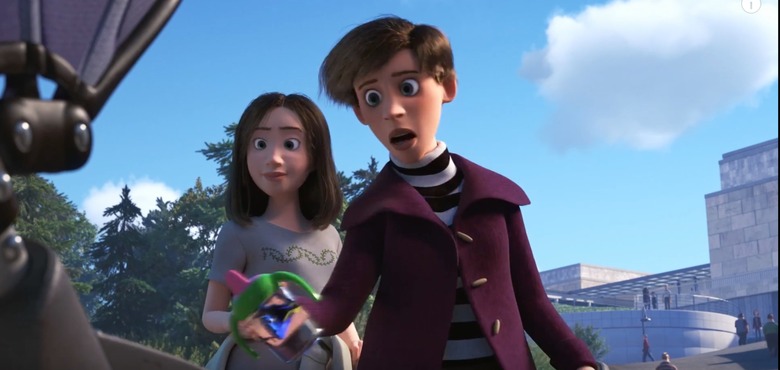 Pixar's Finding Dory caused a minor commotion last month, when its latest trailer featured a very brief shot of what appeared to be a lesbian couple. The characters in question only appear for about two seconds (if that), but that was enough time to get the internet buzzing about what might be the studio's first same-sex couple. Hollywood in general, and Disney in particular, has had a dismal track record with LGBT inclusion in its films. Could this be a step in the right direction?
Now that Finding Dory has actually started to screen, however, it's sounding like the truth is a little bit murkier. Director Andrew Stanton isn't denying the characters in question are gay — but he isn't confirming it, either. 
First, here's the relevant snippet. The possible lesbian couple appears around the 1:05 mark.
The way the scene plays out in the trailer, the two women appear to be the mothers of a baby. But there's no conclusive evidence that they are a couple, and it's certainly possible to assume the women are just friends, or sisters, or something like that. Variety reports the film itself does nothing to clarify the nature of the relationship between the two women — which is maybe not too surprising considering they're very minor characters in the film anyway.
And the filmmakers aren't explaining either. USA Today asked Stanton and producer Lindsay Collins for comment at the Finding Dory world premiere, and here's the response they got:
"They can be whatever you want them to be," said Stanton. "There's no right or wrong answer."
"We never asked them," added producer Lindsey Collins.
"We have not asked that of any of the couples in any of our shots in any of our movies," Stanton said.
It's understandable if the filmmakers haven't given much thought to the backstories of these two extremely minor characters. But the hype surrounding this split-second shot speaks volumes. According to an annual report published by GLAAD, just 22 out of 126 major releases in 2015 featured LGBT characters — including exactly zero films released by Disney. It is worth pointing out that Finding Dory is the rare studio film to feature a lesbian actress (Ellen DeGeneres) in the lead role. But fans hoping for open LGBT representation onscreen won't find it here.
In recent years, Hollywood has come under increased pressure for LGBT inclusion. Disney fans have petitioned the studio to #GiveElsaAGirlfriend in Frozen 2, and filmmakers like J.J. Abrams and Kevin Feige have fielded questions about whether the Star Wars and Marvel franchises will introduce LGBT characters going forward. However, statistics indicate that genuine change has been slow to come. It's not the end of the world if Finding Dory doesn't include a confirmed lesbian couple, or Frozen doesn't set Elsa up with a girl. But progress has to start somewhere, and Finding Dory looks like another missed opportunity.
Finding Dory, which looks like a pretty good film otherwise, opens June 17.