'Suicide Squad' Not Too Dark And Twisted For PG-13 Rating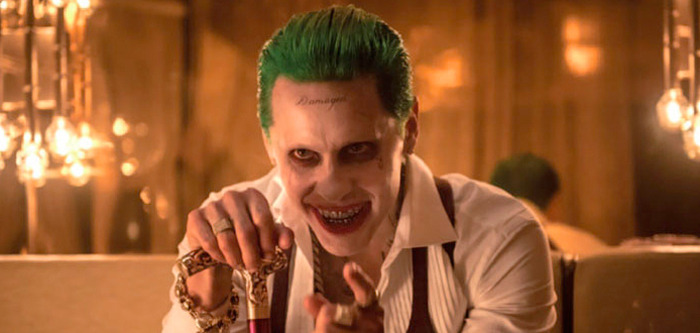 For all the talk about the depraved lengths Jared Leto went to in order to get inside the Joker's head, there are apparently a few lines even the Clown Prince of Crime won't cross. Like the ones that get you an R rating. The David Ayer-directed Suicide Squad has officially received a PG-13 rating from the MPAA, as has been Warner Bros.' plan all along. Read on to read the board's reasoning for the Suicide Squad PG-13 rating. 
As reported by Box Office Mojo, the Suicide Squad PG-13 rating is the result of "sequences of violence and action throughout, disturbing behavior, suggestive content and language." Which is about what we'd expect, based on the trailers. Not to mention Warner Bros.' own stated intentions.
Between Man of Steel and Batman v Superman: Dawn of Justice, Warner Bros.' DC Extended Universe has established itself as a much darker alternative to competitors like Disney's Marvel Cinematic Universe and Fox's X-Men franchise. Heck, Batman v Superman is even getting a much-hyped R-rated "ultimate edition" on home video later this summer. Nevertheless, the studio has steadfastly insisted that it does not plan to go R-rated for its theatrical releases. Producer Charles Roven explained earlier this year why Suicide Squad was aiming for a PG-13:
At the moment, my understanding is we are still releasing Suicide Squad as a PG-13, so there hasn't been to my mind a serious conversation about doing anything other than that. I understand why Deadpool was released as an R-rated film, and I think that the DC Justice League characters, particularly because so many of them are so iconographic, have been around for so long and for so many generations that have grown up with them, and that are still growing up with them, I think we want to present them, when we finally present them, to the broadest possible audience that we can. I think that's why we've planned on making these movies PG-13.
I'm not seeing any real reason to change. We've made some pretty edgy films that are rated PG-13. You never want to say "never" because we all evolve, but right now I think we're staying that course.
Granted, this was before Warner Bros. restructuring led to Roven having a reduced role in the DC franchise. And most of Suicide Squad was in the can before the so-called "Deadpool effect" had a chance to take effect. It's possible that things will be different going forward. But Roven's comments do confirm that Suicide Squad was always intended to be a PG-13 affair. Which is fine. As Roven points out, you can push a PG-13 pretty far. Sure, an R rating would be better for the edgy, gritty image that Suicide Squad is trying to sell — but ultimately, it won't be what makes the film good or bad.
Suicide Squad opens August 5.