Winter Soldier Could Resurface In 'Black Panther', Hints Sebastian Stan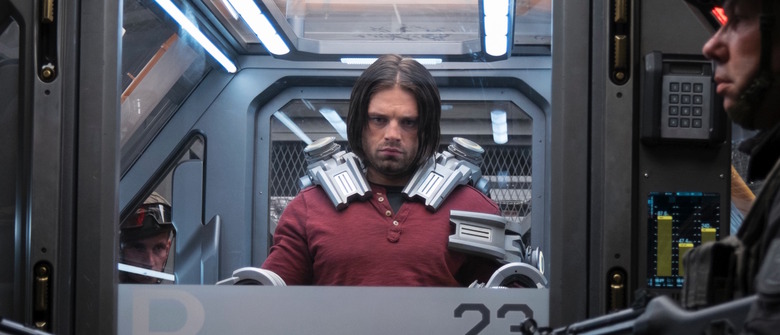 So far, Sebastian Stan's Bucky Barnes (a.k.a. Winter Soldier) has functioned mostly as a supporting character to Chris Evans' Captain America: part sidekick, part nemesis, part damsel in distress. But Captain America: Civil War gave Bucky the opportunity to mingle with some of Marvel's other big names, with spectacularly entertaining results. Now he could reunite with one of his new acquaintances in the not-too-distant future.
Speaking at a recent event, Stan hinted Bucky might return in 2018's Black Panther, alongside Civil War co-star Chadwick Boseman. It'll be Bucky's first appearance in a non-Captain America movie (unless you count that Ant-Man post-credits scene, which you shouldn't since it was really just a clip from Captain America: Civil War). SPOILERS for Captain America: Civil War follow. 
Stan dropped by the Wizard World Comic Con in Philadelphia last weekend with his Marvel BFFs Evans and Anthony Mackie. A fan asked Stan which non-Captain America, non-Avengers Marvel movie he wanted to see Winter Soldier appear in. Evans and Mackie good-naturedly warned Stan to "be careful" with his answer, lest the "break the internet." But Stan pressed onward anyway and offered this tantalizing response:
I don't know, man. I mean, there's obviously a very clear answer, but I'm not going to maybe say it, now. Where did he end up at the end of the movie? That's the movie he should be in, I think. I feel like that would be the natural... but I don't know. I don't know anything.
The ending Stan is referring to comes in the mid-credits scene for Captain America: Civil War, which shows Bucky, Steve, and T'Challa in a high-tech facility in Wakanda. Bucky has decided to go into suspended animation until someone finds a way to undo the Hydra brainwashing that turned him into the Winter Soldier. Steve warns T'Challa that people will be coming after Bucky. T'Challa replies, in true badass fashion, "Let them try."
While the scene does not explicitly confirm Winter Soldier will resurface in Black Panther, it sets up an obvious opportunity to bring him back of the Marvel gods will it. And it's hard to blame Stan for wanting a piece of that action. With Ryan Coogler set to direct, and Michael B. Jordan and Lupita Nyong'o tapped for leading roles alongside Boseman, Black Panther is already shaping up to be one of the most promising features on Marvel's upcoming slate.
Bucky isn't the only familiar face who could make his way to Wakanda for Black Panther. Andy Serkis made his debut as classic Black Panther villain Ulysses Klaue in Avengers: Age of Ultron. And Martin Freeman's government agent Everett Ross, who briefly showed up in Civil War, is often associated with Black Panther in the comics. As of now, though, Boseman's T'Challa is the only Marvel character confirmed to appear in Black Panther.
Black Panther opens February 16, 2018.