Superman Is Coming To 'Supergirl', For Real This Time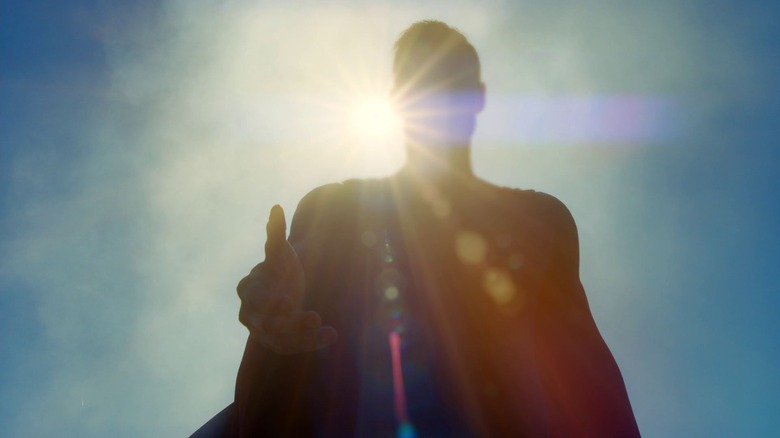 As Supergirl heads to her new home on the CW, a certain famous relative will swing by to help her settle in. Supergirl executive producer Andrew Kreisberg has confirmed that Superman will appear in the second season of the superhero series — as an actual character this time, that is, and not just as a vaguely person-shaped blur. 
Deadline reports casting is already underway for the role of Superman, who'll visit National City in the first two episodes of the second season. What exactly inspires Clark Kent to visit his cousin Kara is unclear, as is whether he'll return for future episodes. Although Superman was frequently referenced in Supergirl's first season, he hasn't been a proper character on the show. In his rare onscreen appearances, he's been seen as a child, from a distance, or as a heavily backlit blur.
Last year, producer Sarah Schechter explained that Superman wasn't in Supergirl because "it's not about him." She continued, "[I]t's her show and it's about her and he is just sort of a shadow in the back of her psyche, and I think that's the right way to portray him because that's how she experiences it." Keeping Superman in the background was probably a smart choice for season one, as it would've been too easy for Superman to overshadow his less famous cousin. But now that Supergirl is more established, the time seems right to bring Kal-El into the fold.
Actors who've previously played Superman on the small screen include Smallville's Tom Welling and Lois & Clark's Dean Cain; the latter has guest-starred on Supergirl as Kara's adopted father. Henry Cavill currently portrays the big-screen version of the superhero, but it's extremely unlikely he'll reprise the role for Supergirl since DC's film and television properties don't take place within the same universe.
The news comes not long after we learned the superhero drama would move from CBS to the CW for its sophomore season. Supergirl is expected to be part of the network's annual DC crossover event along with Arrow, The Flash, and Legends of Tomorrow. Today's news means Superman could come out to play too, at least in theory, but we wouldn't count on it. Supergirl season 2 will air Monday nights this fall on its new channel.