Rumor: 40% Of 'Rogue One: A Star Wars Story' Will Be Reshot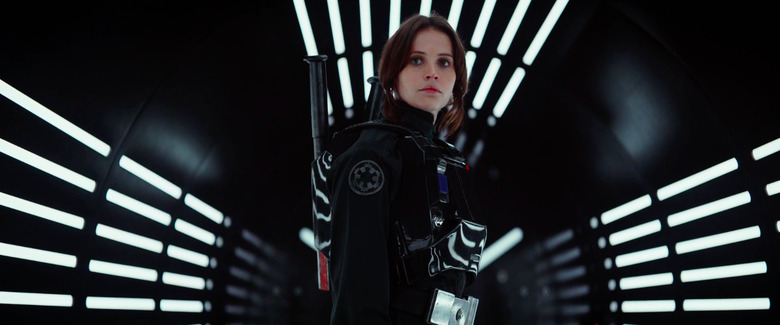 Update: A few hours ago, I reached out to writer/director Christopher McQuarrie, which, admittedly, I should've done in the first place. McQuarrie firmly denied the rumor that he's supervising the reshoots:
If there are any reshoots on Rogue One, I'm not supervising them. For any outlet to say so is not only wrong, it's irresponsible. Gareth Edwards is a talented filmmaker who deserves the benefit of the doubt. Making a film – let alone a Star Wars chapter – is hard enough without the internet trying to deliberately downgrade one's years of hard work. Who does that even serve? Let him make his movie in peace.
Reporting on reshoots or additional photography is one thing, but this false rumor regarding McQuarrie was dismissive of Edwards' work, which was what Christopher McQuarrie took issue with. Reporting that Edwards required supervision wasn't fair to him, McQuarrie, or anyone else involved in Rogue One: A Star Wars Story.
Here's the original story as follows:
A few days ago, it was reported that Disney and Lucasfilm aren't too keen on the dark tone of Gareth Edwards' Rogue One: A Star Wars Story. Apparently Disney believes the tone is too far removed from the original series and what director J.J. Abrams established with Star Wars: The Force Awakens, so the studio ordered reshoots. The last story regarding the reshoots said that they'd take place in June, but new details have emerged suggesting that the reshoots will take up to six weeks and that writer/director Christopher McQuarrie is now heavily involved in the production.
Below, get more Rogue One reshoots details, which you should all take with a grain of salt.
Making Star Wars – a site that has sometimes been reliable in the past — has dug up some new information on the film. The outlet claims to have sources in the crew, and their sources told them the following:
It was initially speculated J.J. Abrams would supervise the reshoots, although that's unlikely. Abrams has moved on from Star Wars and, from what we've been told, is done with the franchise.
Christopher McQuarrie will work with Edwards on the reshoots. It was said that the Mission: Impossible – Rogue Nation writer/director "saved" the story with his work on the script. The potential problem? McQuarrie's script wasn't completed until much of the film was already in the can, so when Edwards and his team started shooting the new material, it didn't fit with what had been shot.
The reshoots will last a month and a half, with the cast and crew working six days a week.
Making Star Wars' sources expect 40% of Rogue One: A Star Wars Story will be reshot, with 32 different sets recreated for the reshoots. Based on what they've heard — and, again, we'll have to wait and see how much truth there is to this story — none of this sounds like Edwards' fault. Even if Lucasfilm and Disney are unhappy with the tone of Rogue One: A Star Wars story, all along Edwards has been calling it a "war movie." He's telling a different kind of Star Wars story, so it only makes sense the tone isn't the same as The Force Awakens.
If McQuarrie is as involved as Making Star Wars claims he is, then there's not much to worry about. World War Z, Edge of Tomorrow, and Mission: Impossible – Rogue Nation all took serious retooling, especially when it came to their third acts. Those movies turned out more than fine, so if Edwards has to reshoot 40% of Rogue One: A Star Wars Story, at least he'll have McQuarrie by his side.
Here's Disney's response to the original story:
The filmmaking team and the studio always anticipated additional shooting and second unit work to make the film the absolute best it can be, and the actors were aware there would be additional shooting. Coming off 'The Force Awakens,' there's an incredibly high bar for this movie and we have a responsibility to the franchise and to the fans to deliver the best possible movie we can.
Rogue One: A Star Wars Story will arrive in theaters on December 16th, 2016.