Showtime's 'Homeland' Renewed Through Season 8, Won't Return Until 2017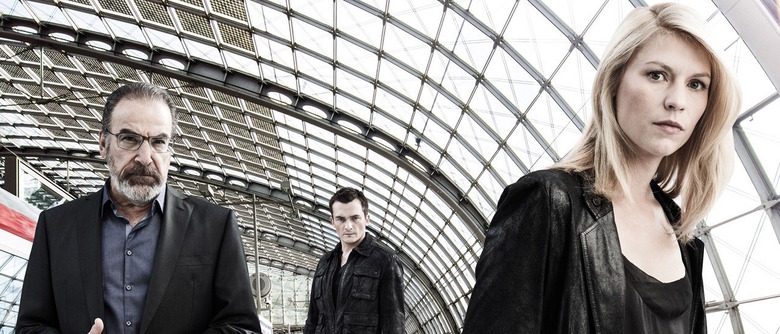 There's good news and bad news today for fans of Homeland. First, the happy stuff: Showtime has gone ahead and renewed the hit drama for two more seasons. That's in addition to the upcoming sixth seasons, which means viewers have a whopping three more seasons of Carrie's misadventures to look forward to. But it'll be a while before we actually get to them, because the unhappy news is that Homeland won't return until 2017. 
Deadline reports Homeland, which had its season 5 finale in December 2015, will return for season 6 in January 2017. Shameless, which usually airs in the beginning of the year, will take the Homeland slot this fall. Production on Homeland season 6 begins this August in New York, bringing the espionage thriller back to its home country after spending the past few seasons zipping around the world. Here's how Deadline describes the season 6 storyline:
After she thwarted a terrorist attack in Berlin, season six picks up several months later and finds Carrie Mathison (Danes) back on American soil, living in Brooklyn, NY. She has begun working at a foundation whose efforts are to provide aid to Muslims living in the United States. Season six will tackle the after effects of the U.S. presidential election, with the entire season taking place between election day and the inauguration. It's a strange, transitional time in the halls of government filled with anxiety and different competing interests, where a very fragile and complex transfer of power takes place between the outgoing president and the incoming president-elect.
No details have been revealed about the plot of seasons 7 and 8, not surprisingly. It's also unclear whether Homeland will stick with the winter slot for those seasons, or revert to its fall slot. Danes and showrunner Alex Gansa are both set to remain on the show through season 8.
Showtime CEO David Nevins made sure to clarify that the two-season renewal did not necessarily mean Homeland would end after season 8. "Just because I'm not thinking that far ahead doesn't mean Alex Gansa and his team aren't," he said. "It's changing itself pretty dramatically each season. I think more than most, this show has an open-ended expiration date. That said, I've been focused on getting this deal done and not really asking what happens beyond this deal."
The network has a bit of a reputation for keeping its biggest hits around long past their expiration dates – Dexter, anyone? — so the two-season renewal might seem a bit concerning. Especially given that the drama's had a couple of rocky seasons already. But season 5 was a return to form, and according to THR season 6 was delayed to give Gansa and his staff more time to develop the story. Here's hoping that means they're able to keep that momentum going.